6 Essential WordPress Social Media Plugins For Business Websites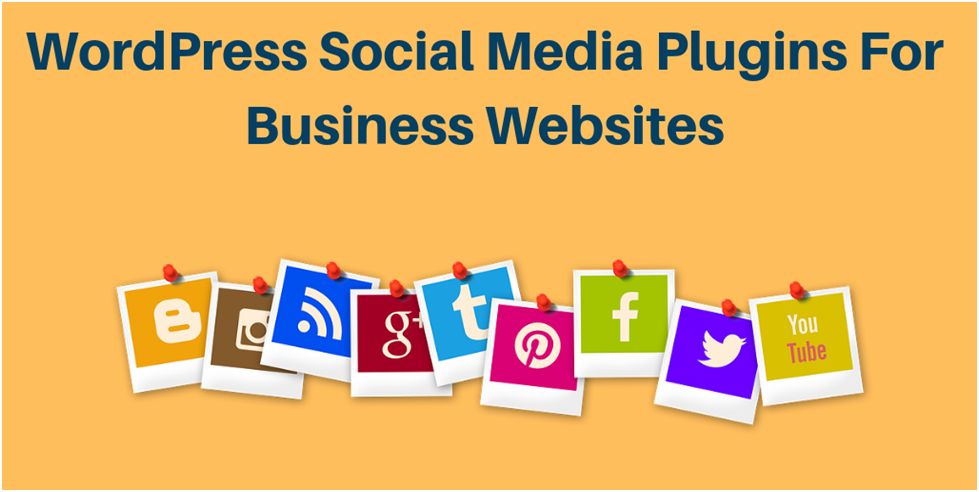 Isn't promotion is a significant element for improving visitor's engagement for your WordPress website?
Yes, definitely!
Social media is changing the manner to market business, ourself and websites.
Who doesn't want the website visitors to get engaged with them on social media as well? The progress of social media has started in 2016 which was 2.34 million users and it is believed that till 2020, it will be 2.95 billion.
Undoubtedly, it has become the unavoidable reality for maintaining yourself updated. It is now has become a powerful tool for branding and marketing your business website. Having a website in 2019, social media integration becomes a necessity. When it is about WordPress, the task becomes quite easy because of its social media plugins.
Social media plugins can enhance the conversions and visitor's experience. These help you to attain organic results (ranking) indirectly. Because more content sharing implies more value and better google ranking. WordPress has come up with an immense amount of choices in the form of free and paid plugins. It becomes critical to choose the right one for your business website.  WordPress plugin developer can help you out in plugin customization and choosing the right plugin for your business needs.
Here, in this article, we are giving you 6 essential WordPress social media plugins for your business website.
Best Social Media WordPress Plugins
For maintaining and enhancing your reach and regular user engagement, it is vital to update the posts on each account. It usually takes a lot of time to complete. With Revive old post plugin, the posts can be shared automatically to social media accounts, like, LinkedIn, Pinterest, Facebook, Twitter, Tumblr, etc. It permits you to manage your social media account actively by sharing the previous content. With this plugin, you can share media, custom posts and blog posts as well. It can also be integrated with the Google Analytics profile.
You just need to activate the plugin, manage the time intervals and the network you would be using to post. So, that's it!! You are good to go.
With its pro version, you can use more social media accounts. This helps you to develop custom share messages and permits you to use the images as well to post.
Use social media unique features with social socializer plugin. You can access a number of things from one place from social login integration to sharing and commenting. Adding social login, custom social menus, social comment and like buttons become easy when you are using social socializer plugin. Different customization options can be used to enhance the look and for better usage with its approximately 100 social networks. It comes up with the features, such as horizontal and vertical sharing layout, shortens URL for sharing and permits you to log in to the website with the existing IDs on popular social media. You can synchronize your general profile data with the WordPress profile. Super socializer is compatible with bbPress, WooCommerce, and BuddyPress.
It is all in one plugin for social sharing, social comments, and social logins. Check out  Super socializer plugin and enjoy the best features and functionalities.
This plugin is designed for sharing the pages and articles on social media, like, Reddit, Google +, Twitter, Facebook, and Pinterest. It has simplified the job in several manners, with no installation issues, no CSS coding, very simple user interfaces, click and drag buttons arrangement. It permits article bars, floating bars, and social media button customization. It has a user-friendly GUI design which makes it one of the best plugin for business website owners and beginners. It comes up with the option to change the button size and size, share count and bar sizes, etc and gives you the live demo of every front end button.
It has other features, like, meta box for post and page meta handling and clicks to tweet bar for twitter posts. Users can enhance the interaction and content sharing with website viewers with Google analytics tracking and tweet options in the advanced section.
It is the best plugin that gives favorable things for your business website, like, share buttons, social media icons, subscribes buttons and total share counters. It gives accessibility to three major social media, like Subscribe, twitter and facebook. It shows the buttons for the total share counter that gives an idea of the total share count at a glimpse. This plugin will not slow down your website speed at all. Its customization is easy. It has six sections, like, General, Network, visual, position, short URLs and Debug. It lets you make the crucial changes easily. Mashshare also has different Add-ons for comprehensive features.
It is a simple plugin that is designed to boost the shares with the addition of social sharing icons on your business website. Social Welfare lets you add buttons on the eminent social medias', like Pinterest, Twitter, Facebook, and LinkedIn. Being updated to its pro version, you can enjoy access to other social platforms, such as WhatsApp, Tumblr, Reddit, Pocket, Buffer, etc. You can place the sharing buttons according to your choice, add them either on the above, below of the content or on both the locations and can place them manually.
With click to tweet quotes, you can create the tweetable quotes from the pages or the post. More add-ons can also be added with its premium version.
This plugin lets you display your Instagram content to your WordPress business website. For that, you just need to achieve an Instagram access token. The shortcodes are used after that to show the feed on your website anywhere like on sidebar widgets, pages, and posts.
You can make multiple feeds with shortcode parameter customization. Several Instagram accounts can be fetched for creating a single feed. Its premium version lets you enjoy additional features, like pop up lightboxes, shoppable feeds, hashtag feeds, the capability to filter the content based on hashtags, comment posting for user feeds, etc. You can use the free version if you only want to have the basic feed on your business website.
Concluding Remarks
When we share, we open doors to a new beginning. Make it easy with social media plugins. Enjoy more visibility, meaningful user interaction, more user engagement, and traffic with the above-mentioned plugins. These vary according to everyone's needs. Some have specific features and some have all-in-one solutions. Have a look, examine and choose the right on that best suits your requirements.
Please feel free to share your experience with us in the comment section below. Your one comment would be highly appreciated!