Over the past five years, global commerce has shifted considerably as organizations have sought highly scalable and more reliable ways to handle their day-to-day operations. For many, the move to online platforms has been a great success, with the eCommerce sector experiencing massive growth following the pandemic. With more customers shopping online than in-store, the need for businesses to shift their resources towards digital-first solutions has never been more necessary.
However, the move to eCommerce for many businesses hasn't been easily achieved. Many lack the technical knowledge or resources to make the transition, or they cannot keep up with the changing trends in technology and customer preferences. This has created challenging circumstances for businesses and their budgets.
Thankfully, there has been an answer for those seeking to upgrade their online presence without breaking the bank – Shopify Plus. This comprehensive eCommerce platform has become the go-to solution for established organizations and start-ups to quickly and effectively launch an online store. And with the help of a Shopify Plus development company, businesses can take full advantage of the resources and tools available on this platform.
What is Shopify Plus?
For those who don't already know, Shopify has been a highly recognizable brand in eCommerce since 2006. Established as a comprehensive, all-in-one eCommerce solution, Shopify offers merchants an opportunity to quickly and efficiently build a store without requiring any prior technical knowledge. Using pre-built themes and plugins, businesses can quickly create a professional online store with the tools and features to start listing products, processing payments and submitting shipment tracking information.
In 2014, Shopify Plus was launched as an enterprise-grade solution tailored to more prominent merchants needing a more robust platform. This offered the same ease of use and convenience as ordinary Shopify plans, with additional features such as multi-currency support, unlimited staff accounts, custom reporting functions, and advanced API access.
With this highly scalable platform, businesses can launch a sophisticated online store with just the push of a button, scaling into global markets, maximizing their eCommerce revenue sources, and delivering seamless customer experiences (CX) without worrying about upgrading their infrastructure when their business grows.
5 Great Reasons to Hire a Shopify Plus Development Company
One of the great things about the Shopify Plus platform is that it was created to help businesses launch an eCommerce site with very little technical knowledge, as most Content Management Solution (CMS) platforms are. But while Shopify Plus' drag-and-drop features make it easy to build a basic website, this platform offers supreme flexibility for web developers and designers to create a truly unique, custom-built eCommerce store.
As a result, hundreds of specialist Shopify Plus development companies worldwide have the knowledge and experience to help you get the most out of the platform. Here are five great reasons why choosing to hire a Shopify Plus development company is an excellent choice for your business:
Building a Unique Site
Shopify Plus has become one of the most popular solutions for eCommerce businesses because it allows for easy customization. As of 2023, there are nearly 27,000 stores that have been created using Shopify Plus. However, while many different theme options are available to merchants, simply sticking with a pre-built template may not be sufficient to stand out from the competition.
Partnering with a Shopify Plus development company can provide businesses with immediate access to expert developers who understand the ins and outs of the platform and know how to get the most out of it. When you collaborate with seasoned developers, your website will be designed and constructed in line with industry standards for optimal usability. Moreover, they deliver custom-made solutions aligned to the objectives of your business so you can leave behind mediocre templates or plugins that don't meet your expectations.
Solidifying brand recognition requires an exceptional web presence. A Shopify Plus development company can help bring your store design to life with all the features needed for success – a tailored look that stands out from competitors and keeps customers coming back again and again.
Designing a Site to Facilitate Sales
Shopify Plus ensures that as your business expands and website traffic skyrockets, its robust architecture can handle the increased demand without a hitch. To get the most out of this powerful platform, though, you'll need to build an eCommerce site with top-notch functions and visuals that incentivize conversions, so your growth potential is limitless.
Hiring a Shopify Plus development company is invaluable for creating a unique online shopping experience. They will provide essential insights and execute powerful strategies to make sure your customers have an intuitive user journey that encourages them to browse and purchase products – optimizing your store performance for maximum sales potential. Their expertise in plugins and third-party integrations like payment processors, warehouse management software, or CRM solutions can take your website even further, guaranteeing the most out of every visit.
Relieving Your Internal Team
Developing and launching an eCommerce website is not for the faint of heart, even for experienced developers. However, with the right technology partner, you can save time and money by offloading some or all of the development work to outside experts. This is where a Shopify Plus development company can be very useful.
One of the most challenging things about launching a successful eCommerce store is that other critical business areas can suffer when you have no time to manage them properly. With the right partner in place, however, you can delegate the development work and leave it in their hands while focusing on other aspects of your business. This will help you save time and resources, so your internal team is not overburdened.
Bridging Skills Gaps
The success of an eCommerce business relies on a team with expertise in many areas, all working together to achieve optimal performance. From SEO and analytics, to web design and content management systems, the right mix of tech-savvy professionals is key for thriving online operations.
A Shopify Plus development team can help boost your eCommerce store to the next level. With skilled developers experienced in the platform, you have access to top-notch technology and expertise that would otherwise require extra personnel or additional training for existing staff. Their input will guarantee a powerful and robust online presence tailored specifically to meet current trends, allowing your business optimum reach on an international scale.
Accessing a Diverse Team of Experts
The great thing about Shopify Plus is that it has one of the largest ecosystems in eCommerce, giving you access to a wide range of developers and experts who know how to use the platform. A Shopify Plus development company can provide you with a diverse team of experts working together to create an optimized website tailored to your specific needs. Below are some great things a Shopify Plus development company can help you with:
Better Industry Experience
With the help of Shopify Plus development partners, you can get better insights and understand your industry. These companies are well-versed in the platform and have dealt with diverse clients. This means they know what works best in different industries, which is invaluable when creating a successful eCommerce website.
Larger Teams
Shopify Plus development companies often have larger teams, which allows them to work more efficiently and produce quality results quickly. This means you can launch your eCommerce website faster and start making sales sooner.
Focus on Conversion Rate Optimization
A great Shopify Plus development team understands that an optimized website is the key to increasing conversions. By creating a robust strategy tailored around user experience, page design, and speed optimization, allows customers to quickly engage with your brand and make purchases right away.
Improved Customer Experiences
With a Shopify Plus development team on your side, you can achieve an exceptional customer experience. Whether it's product recommendations or dedicated support staff, they will ensure that each stage of the journey is seamless and engaging – helping to build brand loyalty while simultaneously increasing sales.
What to Look for in a Shopify Development Company
Finding the right Shopify development partner is vital. After all, they will be responsible for creating a stunning website that your customers can easily navigate. Be sure to do some research and read reviews from past clients – this way, you can make an informed decision about whether their design capabilities match what's in your vision. Plus, reputable companies should have no problems showing off a portfolio of completed projects or providing references on request.
The success of your eCommerce store depends heavily on having a great website design and reliable code. So, it is essential that you select a development partner who has extensive knowledge in web design, coding, UX/UI, and SEO optimization strategies. Ask questions about their technical experience and determine if they are familiar with the latest tools and technologies available for eCommerce stores. Ensure they understand your vision and can create something unique that meets your needs without exceeding the budget. Also, ask them about any additional services they offer, such as custom integrations, data migration, and security optimization.
Get Your eCommerce Site Up and Running With The Help of a Shopify Plus Development Company
If you want to achieve eCommerce success, partnering with a Shopify Plus development team is the way to go. With their extensive experience and expertise in creating optimized sites that suit your unique needs, you can rest assured knowing they will give your project the care it deserves from concept to completion.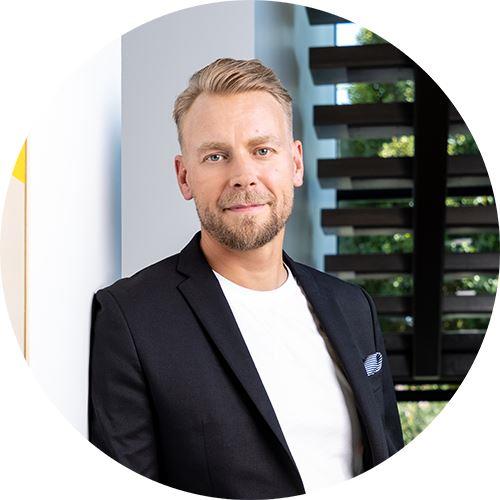 Ville Houttu is the Founder and CEO of Vincit USA. He helped Vincit's parent company in Finland go public on Nasdaq First North marketplace. Ville has an M.Sc. in Engineering and focuses on a lean working model while scaling operations that prizes development and design innovation. With Ville's leadership, Vincit USA has been recognized as one of Inc 5000 Fastest-Growing Companies. In 2020, it ranked in the top 50 on the FAST Company's Best Workplaces for Innovators. He is also one of the few Ironman triathletes who plays pedal steel guitar on several albums on Spotify.