Email marketing isn't just about sending an email to your subscriber. It also involves building your list, engaging the customers, ensuring they are interested, knowing what messages they want from you, and understanding their reason for unsubscribe. It is a challenging feat, but the ROI of email marketing is remarkably higher as compared to the other channels.
Among all other KPIs, it is of utmost importance to measure the bounce rate to determine the performance of your email campaigns. There are basically two kinds of bounce rate to worry about- the hard bounce and the soft bounce. Hard bounce means permanent failure to send the email. Soft bounce, on the other hand, refers to temporary failure to deliver the email. In case of hard bounce, your email account may get suspended.
Before we move onto the tips that can help in reducing the number of emails bounced, let's take a quick look at the reasons for high email bounce rate.
When you send an email to an invalid address, it gets bounced.
If the IP server from which you are sending an email has a reputation for sending junk or spam emails, then your emails have a higher chance of getting rejected.
In case your email subject line or the contents of your email contain spam messages, then your email might get rejected.
Now, let's discuss the ways in which you can reduce the email bounce rate.
1. Build a Permission-Based List
If you don't want to be rejected, then ask for permission before sending an email. When the visitors subscribe to your email, use a double opt-in method to allow subscriptions. If the person has not opted in to receive your emails, the messages you send might bounce, and you might reduce your reputation.
The double opt-in allows you to check if a real person or a bot has opted in for the email messages. How does this work? Your contact subscribes to your email messages. On receiving their email address, you send them a confirmation email, which allows you to be doubly sure that they have indeed subscribed to your email services.
See how Buffer does it.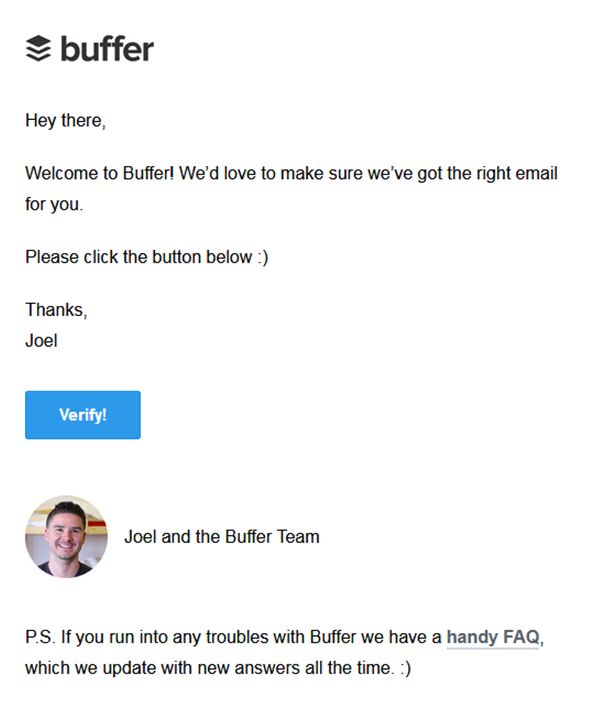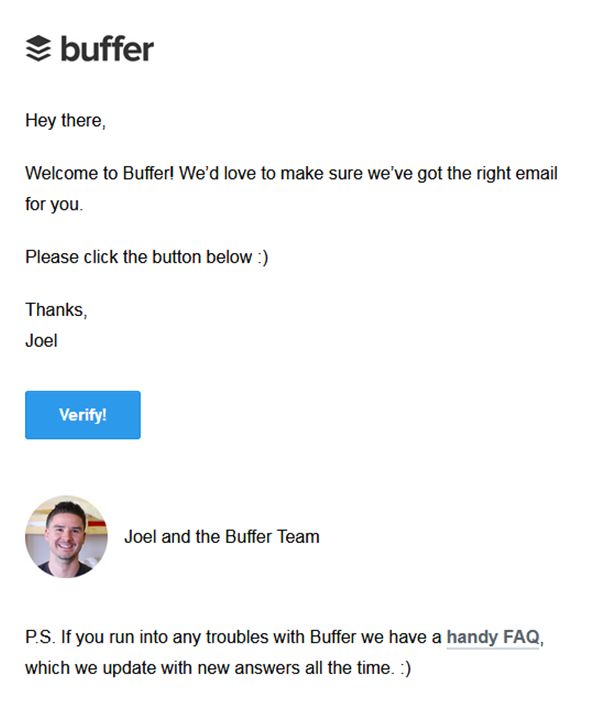 2. Update the Email List
Building your email list is not enough. For your email marketing strategy to be effective, you need to continuously update the list to keep up with the changing email addresses and validate the new addresses as well.
One of the major causes for email bounce rate could be attributed to the fact that people change companies, and you don't have their new email addresses. This cluttered email list might consist of old and outdated email addresses. Clean up the clutter every once in a while by asking your subscribers to validate their email addresses. You can also seek their preferences at this time, and ask whether they want to continue with the email subscription.
3. Avoid Spam-like Emails
The use of spam language comes easily, even when we attempt not to use them. There are words and phrases that are considered to be spam by the email clients. You need to avoid them. Create your messages such that they don't appear to be junk or irrelevant to the subscribers. Use templates that will help you avoid the spam words or phrases, and sound engaging and interesting to the end-users
4. Personalize Email Messages
Personalization does not begin or end with the sender's name details as well as the receiver's name. It is simply one way of personalizing the email. The other stance includes personalizing the email message to make it more relevant to the subscriber. You need to understand what stage of buyer's journey they are in, and accordingly personalize the messages.
Include cause-solution sort of email message which the user might find relevant and engaging. If your email message is not in accordance with their needs, they might delete your messages or might hit spam on receiving it. Either ways it is a loss for you.
5. Show Consistency Across Email
Consistency is a must if you want to improve your open rate and reduce the bounce rate. By email consistency, we not only mean the design consistency, but also the consistency in sending the emails to your subscribers.
If you don't send a welcome email or help them with onboarding, your subscriber may not remember opting in for your emails. Eventually, they will consider your emails to be spam or, send them to the junk folder, thus reducing your reputation. Check with the subscribers, as soon as they opt in, how often they are ready to hear from you. Define your email workflow accordingly.
6. Do Authenticate your Sender Domain
There are three major ways of authenticating your sender domain- SPF, DKIM, and DMARC. You need to ensure that you authenticate your domain using one of these methods. It will help you improve your deliverability rate, thus reducing the bounce rate. It will also have a positive impact on your subscribers. Apart from this, it will help reduce the security alerts that are being sent to your customers.
7. Carry out A/B Email Testing
Testing is important to make sure your emails are indeed in line with the preferences of the subscribers. Make sure you conduct an A/B testing of the subject line as well as the content of the email. It will help understand what works best with your subscribers. You need to differentiate your templates as well to test which one works. Keep a watch on the negative campaign results to understand what really worked, and what did not.
Key Takeaways
Email bounce rate will not only have a negative impact on your email campaign performance but also hamper your reputation as a sender. It will majorly affect your brand's credibility as well. Therefore, it is inevitable to reduce the bounce rate and make sure that the emails land in the inbox.
Make sure your subscriber has opted-in for the messages before sending them emails.
Ensure you have tested the emails perfectly before sending them
Include a CTA that is relevant, and click-worthy
Finally, make sure your messages are personalized and reach the subscriber at the right time.
Chintan is Head of Operations at InboxArmy LLC. He has been into email marketing domain from last 7 years. Chintan is connected to InboxArmy, a professional email marketing agency that specializes in providing advanced email marketing services from email production to deployment. Chintan's success track record covers building email programs at competitive email marketing pricing and using data-driven strategies to turn around underperforming accounts.