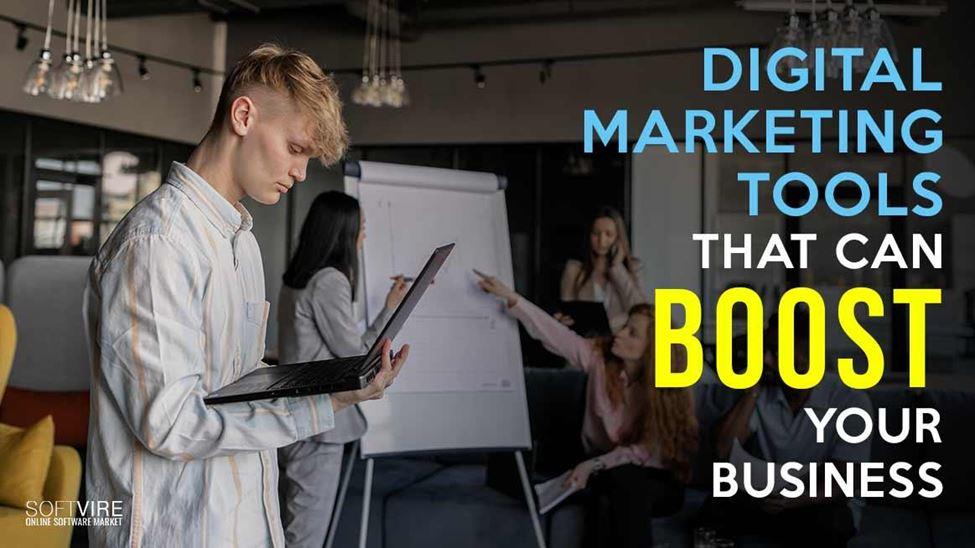 There are millions of businesses worldwide. Trying to compete with someone in the same industry as your company is difficult. That is why businesses should find a competitive edge to remain relevant to their customers.
No matter the size of the business, digital marketing is the most forward-moving strategy that can fit any type of business.
Digital marketing is a broad term. It encompasses multiple categories with different goals and ways to reach consumers. But the commonality among all these digital marketing types is the importance of using tools.
Digital marketing tools are vital in helping marketers. It is for tracking, scheduling, and understanding their audience. Without such tools, businesses will have a hard time managing their marketing strategies, learning about their audiences, and tracking the campaign status.
So, if you are starting your business and planning to use digital marketing to promote it, here are tools that you'll find effective.
Digital Marketing Tools That Can Boost Your Business
Google Analytics
Google Analytics is a free analytical tool by Google. It is for monitoring a website's traffic. It is one of the first digital marketing tools you shouldn't think twice before installing.
But Google Analytics is more than monitoring the traffic entering your site. You can use it to determine what campaigns are working, where the traffic comes from, and what keywords work. You can use this information to build campaigns that will work.
It only takes a few minutes to add Google Analytics to begin tracking your website's performance.
You can pair your Google Analytics with another free tool, Google Search Console.
Google Search Console is a digital marketing tool that checks your website's health. It identifies issues like broken pages or missing meta descriptions. These website issues need to be fixed to help search engine ranking and traffic optimization.
Mailchimp
Email marketing may sound old school, but it is an effective digital marketing strategy that most marketers and businesses still utilize. Email marketing makes money when you know what you are doing.
According to a study conducted by Litmus, for every dollar spent on email marketing, businesses expect an average return of $36. That's higher than most forms of marketing.
If you know how to create effective campaigns with email, implement it.
But, there is no need to worry if you have no idea about it. There are digital marketing tools that are for email campaigns. One of the best is Mailchimp.
Mailchimp is a digital marketing tool with various products, from marketing automation to email marketing. But we will focus on the email marketing product.
You can build your campaigns from scratch or use one of their ready-made templates. It can be edited using a drag-and-drop method, or you can code your own design. It allows testing of design and campaigns to see different versions.
It even automates the delivery experience to customers based on their behavior. Mailchimp tracks your email campaign, the number of opened emails, sales, and click-through rate.
Try Mailchimp for free.
Hootsuite
Social media is one of the biggest platforms businesses utilize to promote their products. Why? There are millions of daily active users on different social media platforms. Furthermore, it's a site where most videos or content are shared and can go viral.
If social media marketing is part of your strategy, you'll need a marketing tool that will help you with your campaigns.
Hootsuite is a centralized social media management platform that helps in scheduling posts and getting accurate reporting.
Create a post within the software and schedule them for posting across multiple social media linked into Hootsuite. There's no need to post your campaigns manually, as Hootsuite will automatically manage everything.
You can do all the editing of your social media campaigns on the Hootsuite dashboard. Change the caption, add an image, and more can happen within the app.
Aside from scheduling a post, you can track the latest trend to catch up on what your customers or audience are interested in. You can even answer comments across all your social media platforms.
Get insights into your campaigns to build better ones.
BuzzSumo
Businesses need a strategic plan. Without one, you'll blindly try to target a population that won't respond to your brand. This technique is a waste of time and resources.
Most businesses are successful because of their documented and well-researched strategies. They know who their audiences are, what they want, what their competitors are doing, and more details regarding their industry.
If you want to succeed in your industry, you'll need to learn more about it. Buzzsumo is a content marketing platform that tracks the latest trend, monitors performance, and gets to know about your competitors.
You don't have to guess what content to write or work on, as BuzzSumo can crawl the web and social media platforms to gather trending topics. You can even generate keywords for the content you need to write.
Work with top influencers within your industry by checking their profiles if they fit into your campaigns.
BuzzSumo is also a tracking and monitoring tool within your website. You can track your website's organic traffic.
Ubersuggest
Ranking on top of the search engine is not simple. It's not only about using a keyword, and everything will work. SEO is complicated, and it requires patience to make it work out.
Digital marketing tools like Ubersuggest are effective for SEO or search engine ranking.
Neil Patel, a digital marketing expert, owns Ubersuggest. You can get insights into your industry and check on your competitors to improve and gain more traffic.
It even allows discovering content from competitors that are popular and may rank on search engines and social media sites. It can help guide you on the next content you can create.
The keyword suggestions offer simple keywords to long-tail phrases. It includes the volume of the keyword and what trends.
Aside from competitor and keyword research, Ubersuggest also has links to websites you can reach out for backlinking strategies.
Ahrefs
Ahref is another SEO tool you can use to get keywords, track your website's performance, and check if there are errors in your website.
The site explorer helps check for URLs that top the organic keyword and see the number of competitors that have used the keyword. Furthermore, you can use it to search for websites you can reach out for backlinking.
It's an excellent tool for building your ranking in search engines and making your website top for a keyword. You get details on both paid and organic traffic.
You can keep track of your entire website performance, including keyword ranking on desktop and mobile. Furthermore, Ahrefs offers information about your website's health status. You can determine what part of your website needs attention, so you can fix it and rank well on search engines.
Canva
You'll need graphic designing tools to help you with your content. Images, videos, and other content require time to polish how it looks. You'll want to give your audience a nice-looking photo.
Canva is the go-to tool of most marketers. It is easy to use with thousands of templates to choose from. You can pick a template you want to use and create a social media post, eBook, infographics, posters, and more.
There are different fonts and graphics to choose from for your designs.
Canva can be used for free. There are plenty of tools that are available in the free package. But if you need more, their business plan works best for you and your team.
With Canva's paid plan, you can collaborate with your team and get designs to finish immediately. All changes happen in real-time.
MobileMonkey
Digital marketing tools like MobileMonkey is a life-saver. It answers your customers' questions instantly.
It is an automated chat marketing tool that can be incorporated in text messaging, social media chat (Instagram Direct Message or Facebook Messenger), and websites.
On a single dashboard, you can see messages and queries of customers without leaving the platform to tend to others. You can also gather insights regarding your customers' behavior.
Trello
Trello is one of the digital marketing tools that can assist in project management and team collaboration. It saves time and enhances productivity to achieve better results on campaigns.
It is simple to use, flexible and allows the creation of boards, lists, tasks, and projects. This cloud-based visual collaboration solution lets teams work on projects, check on the status of tasks, and take a peek at ongoing projects.
Members can check on due dates, set a reminder, or see if a task is passed the deadline. If a task is ongoing or done, you can move a card from one column to another.
It's a great digital marketing tool to bring the whole team in one place, work on multiple projects, and stay on track of it.
Trello has a forever-free version for small teams.
Yoast
Yoast is another SEO tool that can help optimize the content on your website. It can be integrated into other applications and on WordPress websites.
It informs users if the content is readable, the keyword mentioned multiple times, the presence of internal and external links, and more. It makes your content SEO-friendly so that Google and other search engine bots will recognize your site as optimized.
Yoast is free, but getting the premium version offers many features.
Unbounce
Testing your landing pages is crucial to see if your audience will respond to them. Using an A/B testing tool like Unbounce helps businesses and marketers design pages that make customers click on a button or respond to the site.
Build landing pages in a few clicks with a smart builder that helps optimize pages to make them mobile-friendly and high converting.
You can track if your landing page is working or performing well.
Using digital marketing tools for testing your website pages can decrease the bounce rate that affects a website's ranking on search engines.
Unbounce's paid plan starts at $90 a month.
Conclusion
Digital marketing tools are essential for business and marketing professionals. It is designed to assist in creating effective campaigns, track the number of visitors, and check on the health status of a website. Without marketing tools, it would be difficult for businesses to know what strategy is working. They'll have to try everything, which can be a waste of time and money. So with these digital marketing tools, you can always stay on track with your campaigns.
Vanessa Venugopal is a passionate content writer. With four years of experience, she mastered the art of writing in various styles and topics. She is currently writing for Softvire Australia – the leading software eCommerce company in Australia and Softvire New Zealand.