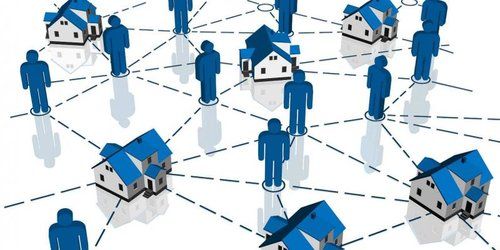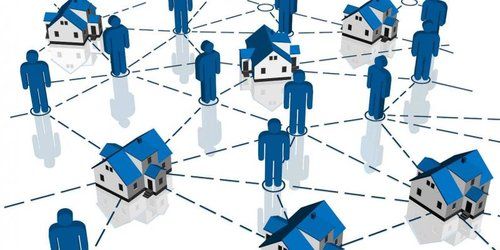 Cryptocurrencies may not have become part of the mainstream technology, but are on their way to this. Thanks to the revolutionary power and capabilities of the blockchain, this kind of money changes the entire financial landscape. And this leads to the development of other industries too. The real estate market is no exception in this case.
Why real estate blockchain?
The real estate industry is in contact with every person on the planet. Everyone will work and live somewhere. The real estate industry is considered one of the murkiest and risky for business. Since the process of buying and renting real estate is not easy, there are quite a few traps on the way to the completion of the deals, carefully set up by deft tricksters.
Contracts are forged, fraudulent schemes are approved by regulators, and bureaucrats lose data and documents. Getting a lot of references and extracts is another impassable barrier to selling or buying an apartment or house. This world is so frightening to many that they have not decided to change their living conditions for years.
Blockchain has the ability to transform the industry for the better. It captures all changes, transactions forever, it is transparent, it is impossible to lose or forge records in it. All parties to the transaction have equal opportunities to control information.
The blockchain is able to make digital certificates that are associated with a particular property, will be displayed in a single system. No one can sell, mortgage or rent a house or office on false documents. Scammers also will not be able to become intermediaries between the seller and the buyer. When the real estate industry becomes transparent, scammers will not be so interesting to deal with it. After all, all their actions will be in sight.
Cryptocurrencies eliminate intermediaries, which are called "third parties". The number of parties, companies parasitizing on transactions in this area is huge: brokers, insurance companies, banks, bureaus, registering transactions and issuing certificates about them.
In the blockchain, you can eliminate all these numerous intermediaries. In this case, all the information there will be recorded in a transparent form, available for study by the parties.
In the future, real estate transactions with payment by virtual money will be increasingly popular. As soon as customers and sellers understand that they risk nothing, but only get rid of overpayments, they will easily switch to this type of payment. Until this happens, cryptocurrencies will have time to become more stable in price, because their sphere will become mature, get rid of speculators who are attacking all developing industries.
Deedcoin: reduced agency commissions
Project Deedcoin does not relieve property owners from agents but it minimizes the costs of their activities. In fact, it is possible to wait several years until an application appears on the blockchain, which completely solves all bureaucratic and financial issues with the sale of houses. It is possible to cheapen the current agency work by transferring only some of the functions to the blockchain.
The project allows you to find a realtor near your location. It will not be a random person with other people's photos of apartments from the Internet.
Both buyers and owners will not spend time viewing and studying attractive fake options, after which they will be offered unprofitable real options. They will be able to shorten this process, having received all the comprehensive information about the property or the second side of the transaction. Commission system will be 1%, which is less than in most countries. For example, in the US, realtors take 6%.
5% commission is a huge amount. Suppose if a family buys a house within $100,000, it can choose an option for $94,000 and not for $99,000 if it makes a deal through Deedcoin. In America, a $5,000 difference in such a segment could mean an extra room or extra bathroom. And the more expensive the apartment or house that needs to be bought, the more money can be invested not in the work of the intermediary, but in the real estate itself.
Real Estate Revolution (REX): homes around the world
Startup Real Estate Revolution (REX) helps to find interesting applications because their database is decentralized. It is used by homeowners around the world. It is much easier to move inside your city. But if you want to buy a house for a holiday in another country or help overseas relatives to improve their living conditions, they will have to sweat in searching for a suitable option.
Real Estate Revolution allows owners to put their property for pennies and keep them on the list for as long as they need it. In the future, the project will simplify real estate transactions by adding other functions to its platform.
Muirfield: keeping money in real estate
Real estate markets are stable relative to other areas but are available only to wealthy investors. Muirfield is a private equity investment company that specializes in real estate. Its managers collect deposits of any size from investors and do everything to increase them. The creators of the platform call it a flexible and scalable solution for honest and conscientious investors. Transactions in the system are free, secure, transactions are fast and secure.
The future of blockchain in real estate
These were just a few examples of how blockchain platforms can simplify life for people who deal with real estate. In the coming years, the number of real estate companies that will implement such solutions will increase.
Enterprises will use all the advantages of the blockchain:
formation of lists of real estate;
secure transactions;
maintaining registers of owners;
making deals in cryptocurrencies and fiat money.
In fact, the blockchain potential for the real estate market is far from being fully explored. If you dig a little in depth, you can remember how ordinary families make the decision on renting or buying an apartment. They take into account the sea of factors: the state of the common local area, the date of major repairs, the availability of infrastructure (shops, schools).
Even before the realtor should be invited to the transaction, the owners are trying to decorate their property and buyers are waiting for the truth. Blockchain can, for example, give a chance to buyers after viewing to fix their estimates of the property in decentralized databases, where other applicants will be able to see all inaccuracies and inconsistencies. With such an organization of the environment and the owners would not make sense to lie about their properties.
It is also possible to argue about how buyers lead the sellers by the nose. There are possible similar methods for verifying the potential of the customer, which does not always adequately assess its capabilities and does not speak the whole truth about its family.
This aspect is more interesting to those who rent a house, than to those who sell it. Owners can also get protection from unscrupulous or dishonest tenants before handing them the keys to their home.
It is obvious that many aspects of the functioning of the real estate market can be tokenized. At the same time, only a small part of them directly relates to transactions and cash flow. So, there are many non-financial applications on the blockchain in this environment. This is a very promising area for developments of this kind.
Melissa Crooks is Content Writer who writes for Hyperlink
InfoSystem, a mobile app
development company in New York, USA and India that holds the best team of
skilled and expert app developers. She is a versatile tech writer and loves
exploring latest technology trends, entrepreneur and startup column.