Fast-growing Mobile App Development and Technologies
The mobile market is a competitive sector with a diverse range of technologies and advancements emerging each day. Technologies such as Artificial Intelligence, Machine Learning, Augmented Reality, Virtual Reality, are all doing wonders to business apps and other apps.
Mobile applications have become a part of the growth of every business from any sector. The customer reach obtained through it, the way it serves as a marketing tool, the best-in-class features and handy apps people wish to use, and many more are serving as a great boon to the businesses.
It has made people's lives far more than convenient. When we turn around and look at a world without smartphones, digital apps, and high-tech aspects, life would seem abnormal. That is the level of impact technology and mobile apps have created. Both Android and iOS applications are gaining traction among the masses. Especially, the iOS app development trends that have popped up are extremely opportune and are still in the process of numbering the upcoming upgrades.
No wonder that iOS app developers have always been the trendsetters with their alluring iOS benefits such as security, privacy, advanced and customer-centric features, etc., More than staying up-to-date, it is important to evolve along with the technologies, and that is exactly what iOS applications are helping us with.
Given this scenario, every iOS app development company in the market is getting projects for iOS app development from various sectors. As innovations keep coming, the need for the best services and the demands for the best applications is increasing day by day.
Here are the most popular iOS app development trends that are going to tilt the iOS market positively and will make remarkable strides in 2022.
Top 10 iOS App Development Trends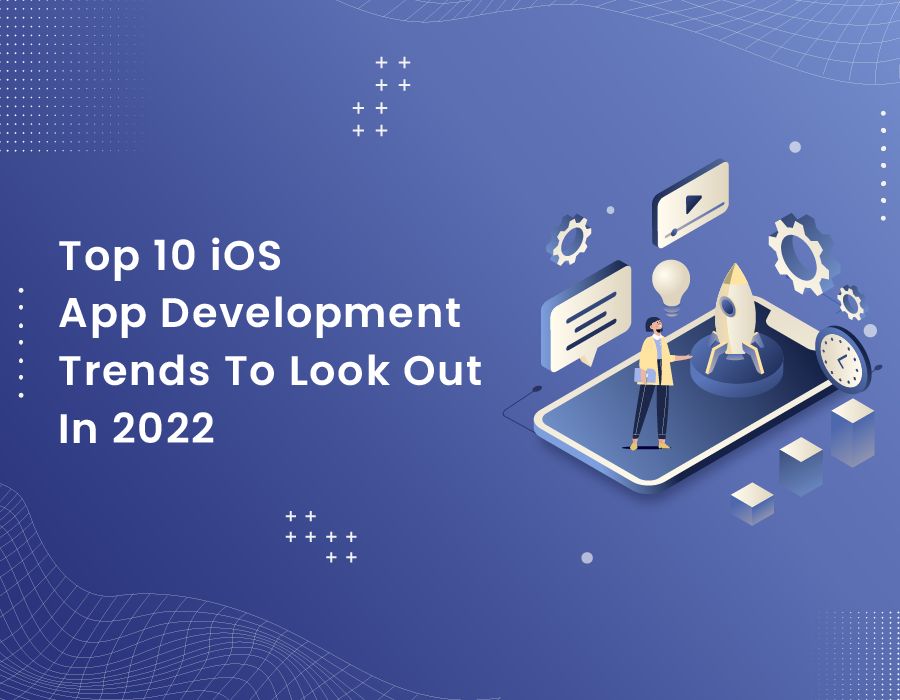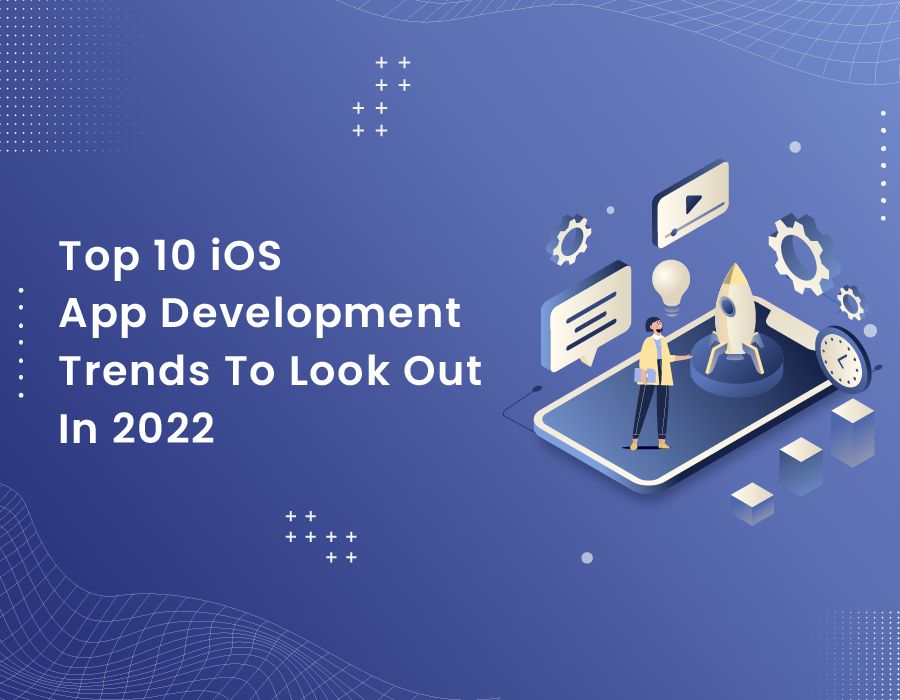 With iOS app enhancements and improvements in iOS growing rapidly, here are the trends that make them a cake topping with coherent and new methodical tech trends.
#1 Swift 5 Evolution
Swift is one of the best coding languages. Apple has done its best to make this language the most efficient one to build iOS applications and is still on the line of growing it. iOS app development using Swift 5 is making waves in the industry because of the top-notch benefits it offers such as simple coding, scalable solutions, security mechanisms, and so on.
With the incorporation of source-compatible attributes, Swift is striving to win the game in iOS development. An instance of its success is that more than a thousand applications on the Apple store built with Swift are doing great in their respective sectors.
#2 Foldable Devices
As we all know, Samsung was the one to introduce the newly advanced foldable mobile devices with rich features. Even when the device is folded, the Android applications run seamlessly since it is imparted with a screen continuity feature. This is a challenging mobile app development trend indeed since the screen size hugely differs when folded and applications should be designed in such a way that they fit the screen irrespective of whether the device is folded or not.
Though it is currently adopted in Android app development, 2022 may serve as the year for iOS foldable devices. With iOS app development already helping in reaping maximum benefits, this can be yet another feather to its success.
#3 IoT-enabled iOS Applications
Google Home Voice Controller is a perfect example of an IoT-enabled device or application. The Internet of Things is nothing but the interconnection network of small gadgets to provide optimum usage and convenience to the users. Top brands such as Google and Amazon have leveraged this trend to make their positions more strengthened in the market.
Complex sci-fi stuff such as health insurance plans, supply chain management, smart home setup, etc., is no more complex. With IoT and its futuristic iOS app development tools, these complications are entirely eliminated and the demand for IoT apps will increase in the upcoming tech years.
#4 Chatbots
Chatbots are helping businesses in building strong customer relationship management. Customers are also familiar with chatbot technology and hence now it has become an expectation more than a trend. These custom service tools are in demand at a fierce level that is widely adopted in many of the iOS applications' development. In 2022, chatbot integration will become a normal thing similar to using mobile phones and apps today.
There are only a few applications that have inculcated Chatbots. However, for better user experience and immediate responses, chatbots serve as a perfect solution. Because of this level of usefulness, chatbots are expected to be integrated by every enterprise in their iOS apps and Android apps at the end of 2022.
#5 Augmented Reality and Virtual Reality
One of the topmost happening and attractive iOS app development trends is the incorporation of Augmented Reality and Virtual Reality. All we know is they are abundantly made use of in gaming applications. But AR and VR are serving more than just in games. There have been tons of AR and VR use cases nailing down happening with the world's largest brands including Apple and Google.
For instance, Google is planning to make use of Augmented Reality in Google Maps in order to provide users with real-time experience by giving directions live for the phone's camera. According to some surveys, AR and VR technology will attain a worldwide market of about $209 billion in 2022.
#6 Cloud Integration
An iOS app development company thriving to build an iOS application with a well-structured backend and backup will definitely go for advanced cloud integration with no second thoughts. To manage a huge amount of data for businesses to function frictionlessly, cloud integration would be the best go-to option.
It will help businesses to have a secure storage facility to store all data related to their business synchronously thereby providing real-time global access to the data whenever and wherever needed. With increased cooperation and collaboration, cloud integration makes the work of app developers more predictive. It also highly optimizes the storage costs involved in iOS app development.
#7 Wearable Apps
Wearable applications are yet to become a sole part of human's lives but it won't be for so long. This tech trend is vastly growing at a rapid pace all around the globe. The best example of this is the announcement made by Apple with the WatchOS update. It is said that Apple watches will no longer need a supporting iOS application and it will run with its own App store. This signifies the heights that wearable technology is about to reach.
This might be the cue card for many businesses who are trying to be unique and give the gain a distinct edge in the market. This iOS app development trend will be embraced steadily and by the end of 2022, the count of wearable devices is expected to be 929 million.
#8 Advanced Security Mechanisms
Getting incorporated with various security mechanisms and technologies is a never-ending pursuit in app development since it is the main aspect. This is because of the new breaches and hack problems arising at a speed faster than us finding solutions for the previous issue. This won't be a problem anymore with the advancements in iOS app security measures we are about to attain.
In 2022, along with the already existing iOS security mechanisms, a lot of other improved and secure components will be added to the list. The latest security tools will make the iOS applications more secure than ever. The apps will be able to handle any depth of breaches or potential cyber-attacks. With maintaining security being one of the core responsibilities of every iOS app development company, app securities, and their advancements will make businesses achieve more than just success.
#9 Artificial Intelligence and Machine Learning
For the last few years, AI and ML have almost become a part of every mobile phone owner. Applications such as FaceApp, Snapchat, Cortana, Replika, and Google Assistance have made the most use of AI and ML technology and have dug the technological advancement deeper enough to see the success light.
It is expected that the global Machine Learning industry will be worth $9 billion in the second quarter of 2022. Supporting this, Apple has welcomed the core ML 3, the latest ML feature supporting AI smarts in iOS applications. The features and components of AI and ML are about to disrupt the tech market and become a leading trend in no time.
#10 Beacon Technology
2022 will be the year of Beacon technology. It has been around some devices for some time and it will reinforce its presence in the forthcoming years. Beacon technology is aiding businesses and enterprises in reaching their customers with their products easily by the high contextual features available in it.
So many tech grades are about to be raised with beacon technology which includes beacon-enabled airports, automated personal beacons, mobile payment beacons, virtual tours, and a lot more. The number of Beacon deployments will reach around 400 billion in 2022.
Advantages of Adopting iOS App Development Trends For Businesses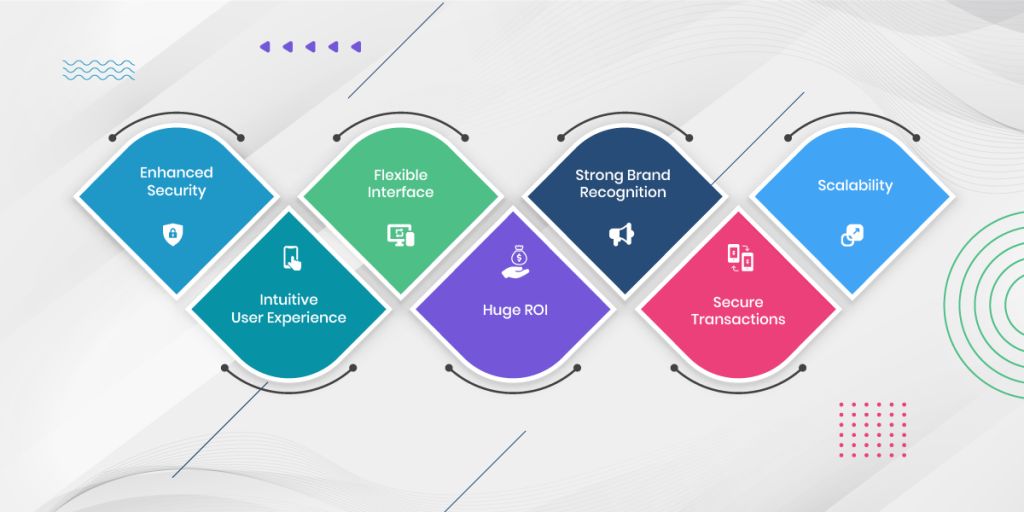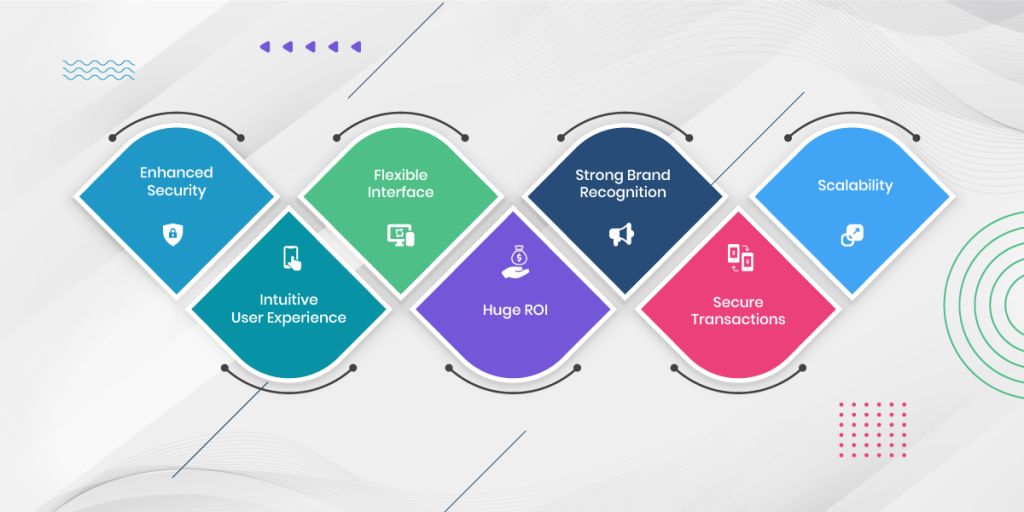 #1 Enhanced Security
One of the prime benefits of adopting iOS app development trends is the gain of high-end security. For sensitive data protection, there is no better option than the excellent tamper-proof security services obtained through iOS applications. It effectively protects business data from threats, malware, and any other possible intervention.
#2 Intuitive User Experience
With exemplary designs, customer support, customer-centric features, flawless functionalities, iOS app users get the most responsive and intuitive user experience. Every iOS application downloaded from the app store will run smoothly and will be easy to use. iOS app development will be the first choice of any business willing to develop an application, and this is the major reason for it.
#3 Flexible Interface
Every app and business tends to offer an optimal user experience with an easy-to-use interface. But not every app becomes successful in that aspect. With iOS users already knowing the fact that iOS apps provide a synchronized environment with a satisfactory and flexible user interface, the adoption of iOS app development trends should be done without any doubts. To boost sales, increase user engagement, and shine in business, iOS apps serve as a lottery!
#4 Huge ROI
With iOS applications in-store, businesses make the best returns out of their efforts put into developing an efficient iOS app for their business. HAving better reach to their target customers, incorporating sophisticated features, and planting the maximum security efforts in the application, iOS is the best choice to take your brand towards success.
#5 Strong Brand Recognition
Apple is the most trusted brand for both businesses and consumers in the world. This means that anything and everything related to iOS will also be quite trustable. iOS users are aware of the fact that Apple store available applications are highly secure, well-tested, and have advanced features. Hence for more customers to trust the use of your business application and increase your brand value, there is no better option than taking your ideas into developing a rich iOS application integrated with the latest trends.
#6 Secure Transactions
With iPhone apps, transaction processes can be carried out safely in a secure environment. Hacking, breaching, tampering, phishing, accessing unauthorized, misusing app data, etc., can all be easily dealt with by the high-end security functionalities in iOS applications. This ensures online transactions taking place using iOS apps will be friction-free, effortless, and secure max.
#7 Scalability
Scalability of applications is a major factor and undoubtedly it is well-taken care of by iOS app development trends. With alluring customization options and profitable features, iOS trends help businesses come with a perfectly suiting, scalable, and robust iOS application that helps in upscaling their business.
Summing Up
A zillion mobile applications exist. But how well are they serving? How well are they satisfying users' expectations? Are they advanced enough? Well, iOS applications developed with the emerging trends won't give a chance to arise such questions. The best you can do to power your business with iOS apps is to impart the evolving iOS app development trends in your app development. Also, don't forget to choose the best serving iOS app development company to offer you top-notch iOS app development services.
The bottom line is that iOS trends are always in the race of steering the app development evolution.
With in-depth knowledge in Information Technology and app development strategies, Karthik holds expertise in crafting top-class business solutions and has aided many businesses in untangling technical complexities. Karthik Sakthivel is the CTO of Pyramidion, a leading mobile app development company, and loves to share his trendy tech thoughts.