Undeniably, WordPress is the most popular CMS platform to create a website. Currently more than 35% of websites on the internet are powered by the single platform. It's suitable only for the website but also for the blogs, portfolios, online forums and many more online presence can be achieved with the help of it.
As we all know that it offers a free eCommerce wp theme and premium along with that many more plugins to make it advanced and powerful. That's the primary reason people are moving towards the WordPress, best eCommerce WordPress Theme gives alluring appearance to the website. But it's a fact that people are making so many mistakes while developing a website. It cost them a lot in terms of business loss and user traffic fall down.
Therefore, those mistakes must be identified at an early stage and must be avoided as soon as possible. In this competitive world, a single mistake can decrease your reputation among the people which directly affect the business growth. Whether you're a beginner or an experienced WordPress developer, not a single mistake can be accepted. Not only in the website, it's not at all acceptable to make mistakes in logo design, as it's the brand identity and must be creative and appealing. So, let's discuss some of the common mistakes people make while developing.
1. Avoiding Updates
Weel, we all know that WordPress frequently gives updates. You must not avoid it- it's important to give your user the latest functionality to use. Update it once it becomes available.
By not updating the website, you're giving hackers a chance to breach the security and take the information from your website, and it's not acceptable. Your site can be infected with the malware and they can do anything with the website they want. Whatever the WooCommerce WordPress themes you're using- you must keep updating it regularly.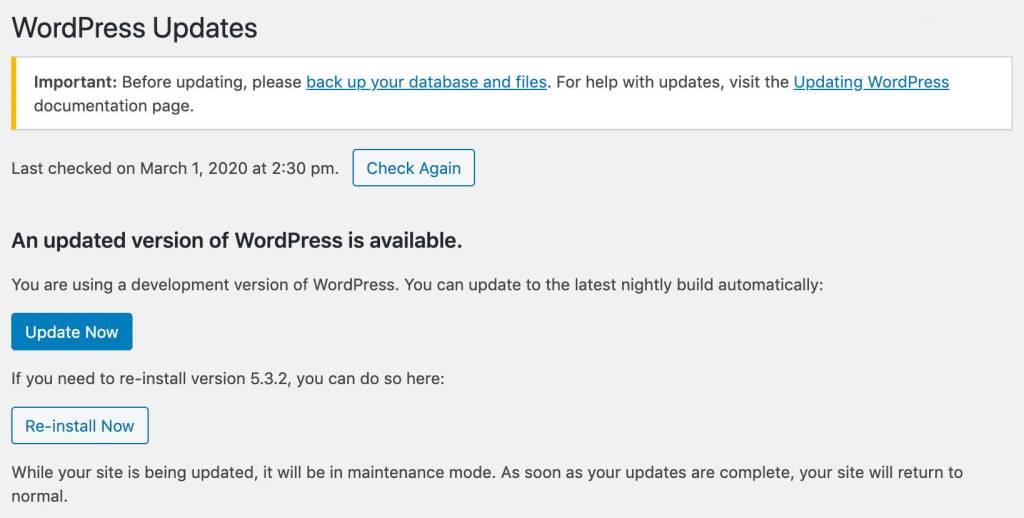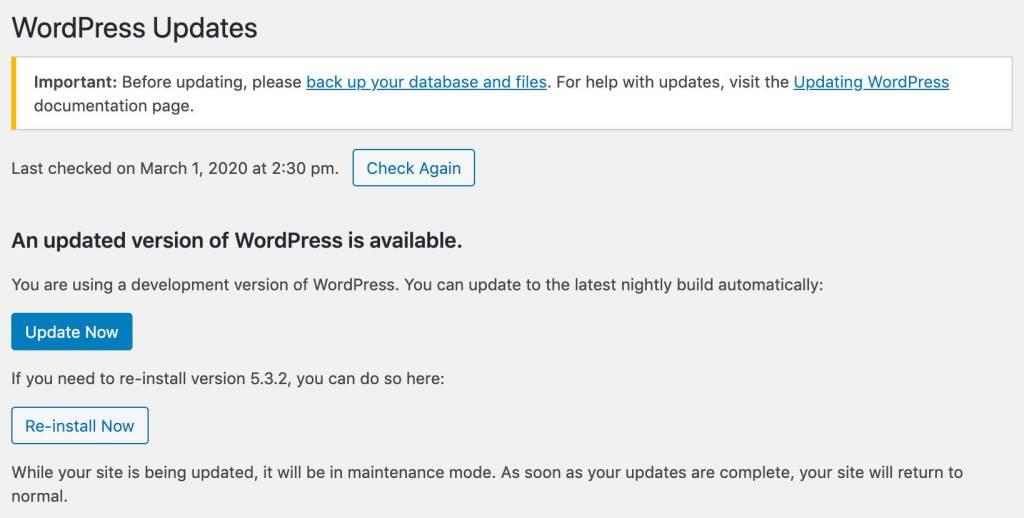 So, this type of screen you will get  in the WordPress update section and from that you can download the latest updates.
People have the misconception that by installing the updates it may crash the website, but the fact is that updates make your site even more powerful and adds new features which gives your visitor a better shopping experience.
2. Wrong Choice Of Theme
Selection of the right theme from plenty of WooCommerce WordPress themes is challenging. But you must have a complete understanding of what suits you best before finalizing because frequently changing the best eCommerce WordPress theme makes a negative impact.
Take a look at the theme which is specifically designed for your relevant business and consist of all the required features. Even if you need to opt for the premium then don't hesitate because everything can't be available in the free eCommerce wp theme.
Theme is the attire of your website, and if it's not up to the mark then you can't attract the people. Fact is that the maximum number of people comes to your store by looking at the appearance and if you're able to make it appealing then surely business will grow. Hence, don't be in a hurry while selecting a theme, choose only which satisfies all the demand.
3. Poor Performance And Speed
Having a high performance and fast loading website is the foremost requirement. Performance is all about retaining users, whenever a visitor comes to your store, they must find it easy to buy the product and everything must work seamlessly.
Performance is all about how better user experience you can provide to your visitor, definitely a good experience encouraging them to visit again. Moreover, as the survey says that users won't wait for more than 3 second to get your webpage load. It's frustrating to wait for a longer time.
But the fact is that people are not emphasizing this factor and due to that they are losing customers and affecting the business remarkably.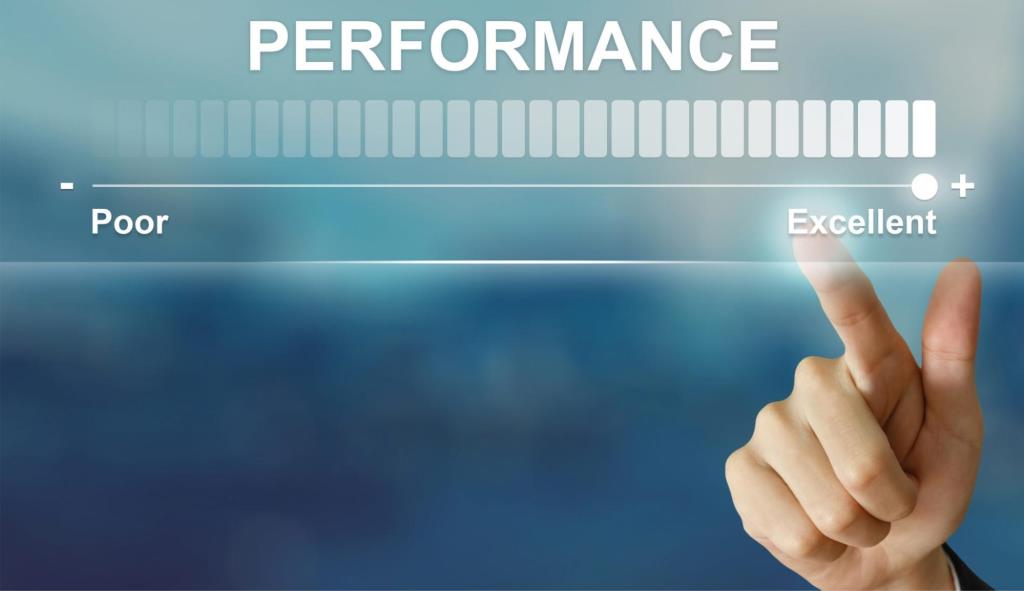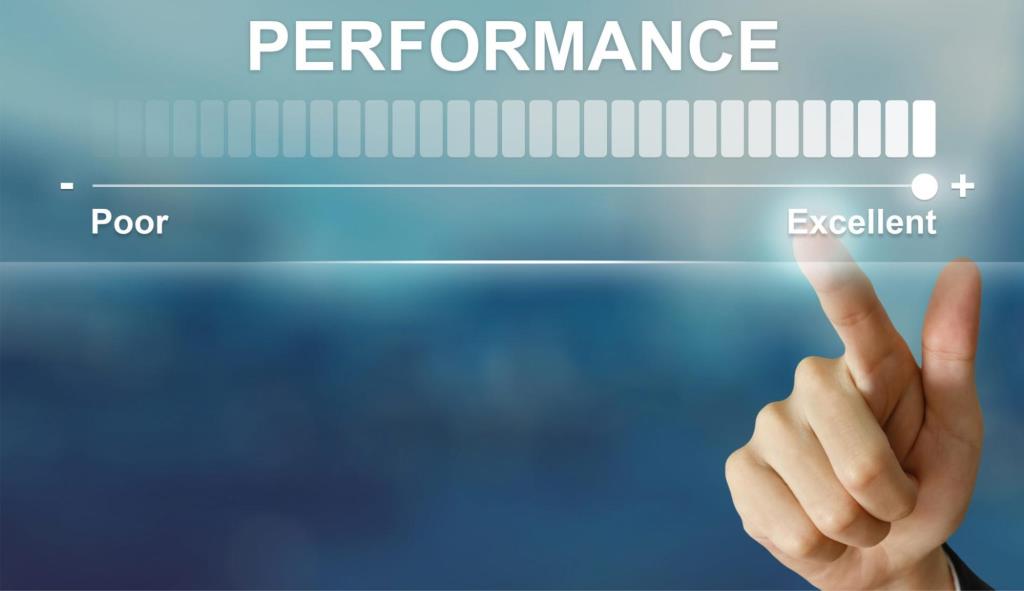 So, the performance of your website must be higher as the image indicates, it must be excellent. There are myriads of WooCommerce WordPress themes which help your website load quickly and give excellent user experience. Even plugins improve the performance of your site, so you need to make a wise choice of the best eCommerce WordPress theme and plugin.
4. Poor Product Representation
The important point for the online store, how you display your product has a massive impact. By looking at that people would be interested to visit your store and purchase it.
High quality images and accurate description is the right way to display your product. But some of the people won't consider it seriously and just put the product traditionally as everyone is doing. It will not work, you must come out from that and be different and present your products in a very attractive way.
Specifically, when you're running a business completely online and don't have a chance of face-to-face communication to convince the people so it's the only way to impress the visitor and in this case best eCommerce WordPress theme would help you as it has a section of product display. Thus, try to display your product in a proper manner which gives good shopping experience.
5. Not Having Responsive Design
The most important point when we develop an eCommerce website. Your website must be able to give the best visual experience in every size of the screen such as mobile, desktop, tablet.
As the study says, the number of mobile visitors is increasing everyday and also continue to rise in the future as well. That means, it's the most popular demand of all the users, and it's your responsibility to cover all the eCommerce trends so that they prefer you over others.
Even Google also ranks higher on those websites which has a great responsiveness with the every size of the screen. Specifically, if you're running an online store then it becomes really necessary to make it for the mobile device because users want to see the products from any place and you should not lose them just due to poor responsiveness.
Wrapping up
As websites are an integral part of the business, any mistake with it is never acceptable. It must be well-developed with appealing designs, rich features and better user-experience. However, sometimes, developers make some mistakes while development. The above-mentioned points are some of the mistakes that should be avoided.
Nidhi Dave is working as a content and brand strategist at ProDesigns – a graphic design company, recommending strategies to meet customers' goals and deliver a superior user experience. She provides content leadership, ensuring that a consistent brand message is delivered to the audience.