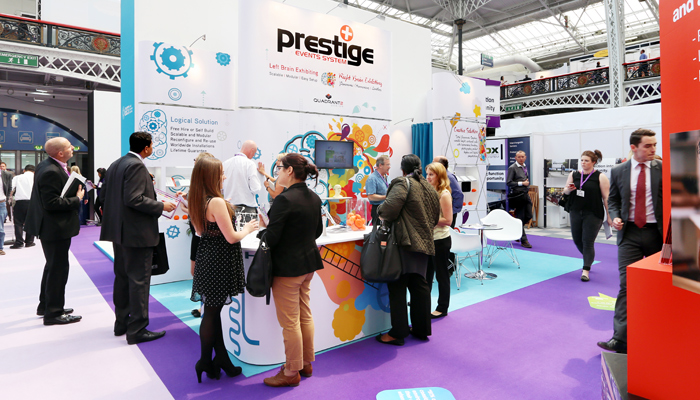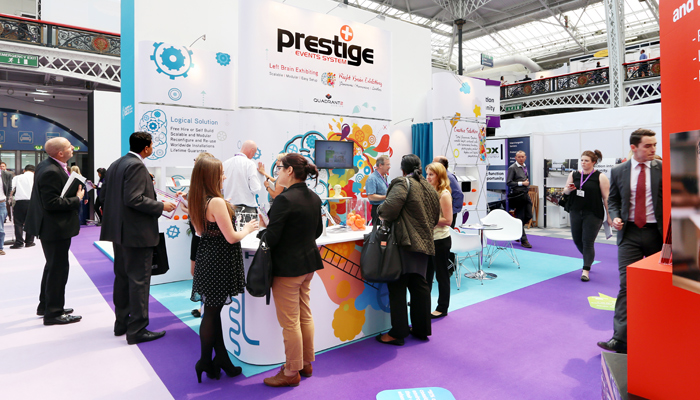 Are you a small business owner looking to grow your business? Have you been completely confused by the jargon, trying to pick apart the differences between content marketing and social media marketing. Marketing isn't easy. Promoting your business, product or service when you're still trying to establish your authority within an industry is hard work. And, of course, it doesn't help when you've got hundreds of so-called 'experts' filling your inbox and head with nonsense.
What if I told you marketing could actually be simple, straightforward and effective. No, really… it can be. There might be loads of ways to promote your business the right way, but this is probably the one for you. Small businesses can raise brand awareness, generate leads and build relationships with one straightforward strategy. What is this strategy? Exhibiting.
Exhibiting is an essential B2B marketing strategy to develop and grow your company.  Although not a recent player on the marketing pitch, exhibiting has seen a steady rise in popularity over the last twenty years.  This is despite the growth of digital marketing strategies such as PPC, SEO and influencer marketing. Expos have been proven to lead to more conversions, more leads and more sales than any other form of marketing. Including digital.
Global brands, like Samsung, use industry-specific events to establish their position within the marketplace. These huge gatherings of people offer a lot of potential in terms of word-of-mouth and free media coverage. The flashiest exhibition stands and most unique product displays are bound to get people talking about you.
You don't need to be the size of Samsung to start exhibiting at trade shows. In fact, there are even more reasons that you should attend an industry event if you are a small business. According to these trade show statistics, 88% of exhibitors are there to raise brand awareness and 72% are there to generate leads. Here are five reasons that you need to exhibit at an industry-specific trade show.
Spy on Competitors
There is nothing worse than pushing a product or service, reaching out to a huge audience and spending a lot of money on marketing only to find out that your competitors are doing something better. The trade show floor gives you the sneaky opportunity to spy on your competitors, see what they are offering their customers and see exactly how they are selling it. And this isn't illegal.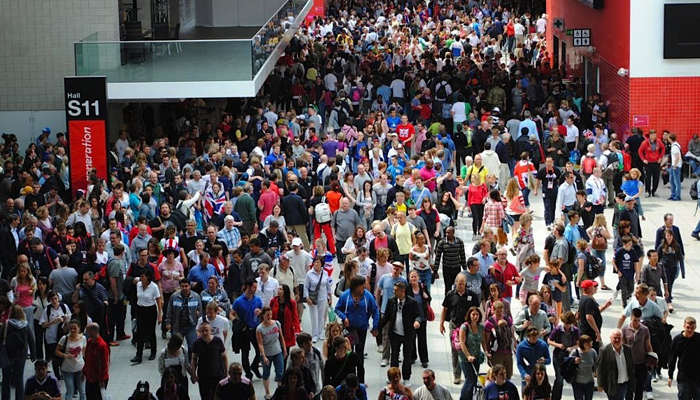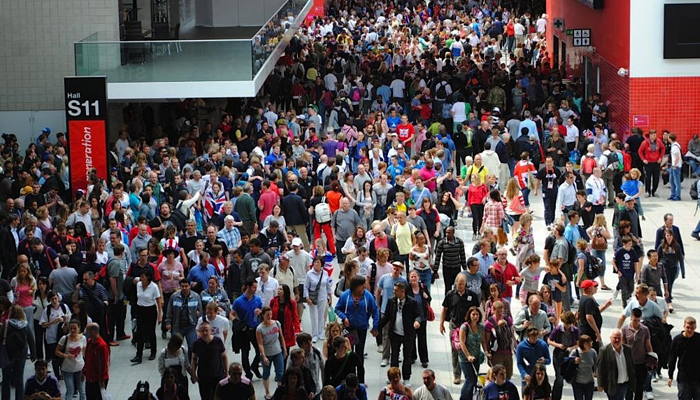 If you are exhibiting at a trade show, give your team regular breaks to wander around the floor and keep an eye out for any of your direct competitors. As floor space is sold on a first come first serve basis, you'll find start-ups, SMEs and global brands mixed in together. This will give you a nice feel of what is expected from you right now, and what you should be aiming for.
As well as keeping track of what your competitors are doing, you can also use one of these events to keep up with industry innovation. If something is changing or advancing in your industry then you should be the first to know. That way, you can be confident marketing your product knowing that you are keeping up with trends and outperforming your competitors.
Close Deals!
Generating leads is a great start, but what do you really gain from that? Often, people use this as a metric to measure the success of the event. This leaves booth staff in a panicked frenzy to scan as many badges and collect as many email addresses as possible, often leading to many unwanted and low-quality leads. Unless your exhibition goals are to generate leads, then this is not the way to measure your return on investment (ROI) from your exhibition.
Instead of playing the numbers game, use the time money and resources that you have invested to close deals. This is a far more effective way of using your exhibition stand. Quite frankly, it is amazing that more businesses aren't doing this.
Before you go to your exhibition, plan how this will work. What forms will you need and have you got a point of sale (POS) system sorted? Are your team fully equipped to deal with these kinds of enquiries? This is one of the arguments for having a senior member of staff or account manager working on your trade show booth.
Make Business Partners
At a trade show, you are kept in a room of relevant industry professionals, business owners and decision-makers for any given period of time. What better opportunity is there for a small business than that? This kind of exposure, especially when you run a start-up or small business, is crucial when it comes to building relationships within your market.Even the best LinkedIn marketing plan couldn't connect you to this many industry professionals.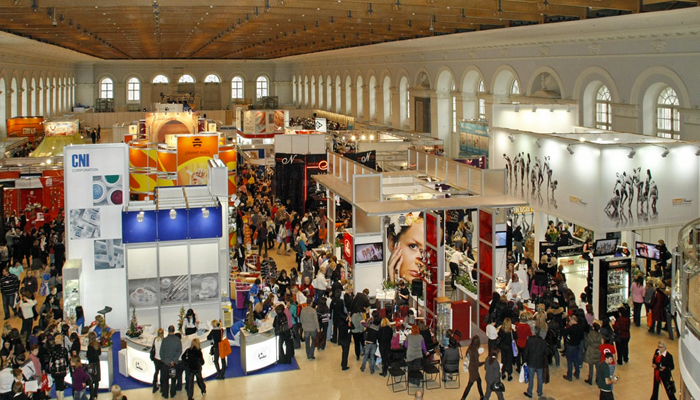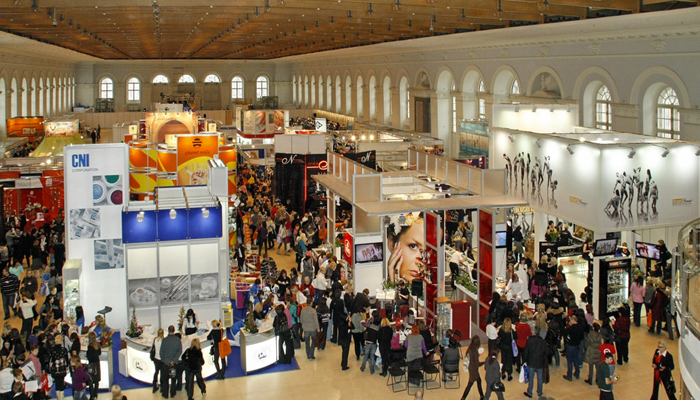 Networking can help you to build confidence, get fresh ideas, gain a different perspective and advance your career. All things you should aspire to as a small business. With both other exhibitors and visitors sharing an interest in your field, there is no better place than a trade show floor to make these B2B connections
But why not take it a step further? Use your next expo as a way to form partnerships that will work in your favour later down the line. That is exactly what Quadrant2Design did when they attended Confex at ExCel London. By introducing themselves to some suppliers, forming relationships and exchanging contact details, they were able to build an entirely new portfolio of suppliers that have not only improved their design but have saved them money as well. As the old saying goes, it's not what you know it's who you know – and exhibitions are a fantastic place to meet people.
Instant Market Research
You're in the heat of the moment, engaging with hundreds of potential leads. Visitors are interacting with you and you have ample opportunity to demonstrate your product or service and give them any information you need. Even your exhibition stand looks great and your team are thriving on the rush of lead generation.
And then it stops. You scan their badge and let them wander off down the aisle. Maybe you remember to send them a follow-up email using one of our favourite email services for small businesses. Who knows, you might even start working together. But you have missed a crucial step.
Exhibiting at a trade show is one of the quickest and easiest ways to gather real-time feedback from your customers. As this is a face-to-face approach, your team have the opportunity to spend time and build rapport with potential customers. This trusted form of marketing means that, when asked, the lead will likely give you honest feedback on your product or service.
As they are being exposed to so many of your competitors in one place, the feedback you receive will likely be highly tailored and relevant to your business model and offering. You can use the insight to improve your product and deliver something that your customers will love.
Raise Brand Awareness
The most common answer given, when exhibitors were asked why they wanted a presence at a trade show, was that they wanted to increase brand awareness. This isn't the sort of brand awareness that PPC agencies will promise you. This sort of brand awareness can only be achieved at industry-specific events. What is it about these exhibitions that make them so special?
If you think about it logically, nobody in their right mind is going to attend an industry event if they have no interest or correspondence within that industry. Trust me, a day out at the Southern Manufacturing & Electronics Show isn't at the top of anyone's bucket list unless they have a passion for machinery. That means you will be raising your brand awareness by engaging with a highly relevant audience.
With this insight, you can begin to understand what exposure to this type of audience can do for your small business. Raising brand awareness is a crucial element of marketing. This is because word-of-mouth is the most trustworthy source of information. In theory, if you increase your brand awareness you will increase the spread of word-of-mouth. Now imagine this spread of positive word-of-mouth is coming from industry experts and decision-makers. It becomes even more reliable, and you generate even more leads.
Are You Sold Yet?
These five reasons make it incredibly hard to miss exhibiting off your marketing plan. Especially if you are a small business. As well as having the opportunity to increase your brand awareness, generate leads and close deals you also have a chance to create business partnerships and spy on your industry competitors.
Positioning yourself on the trade show floor, among the start-ups and the global brands, will pinpoint exactly where you are and where you are going. Use this as a tool to plan for the future and grow your business to achieve your goals.
If exhibiting isn't the perfect marketing strategy for you then take a look at six more low-cost ways to grow your business. There are loads of ways that you can grow your small business, and you need to make sure you are investing in the right marketing strategy before you dive in.
Natalka is a full-time content writer for leading exhibition stand design agency, Quadrant2Design. Her passion for content, SEO optimisation and writing developed following the growth of her blog, and it was when she was selected as a finalist for the UK Blog Awards 2018 that she knew she had to pursue a career in content.