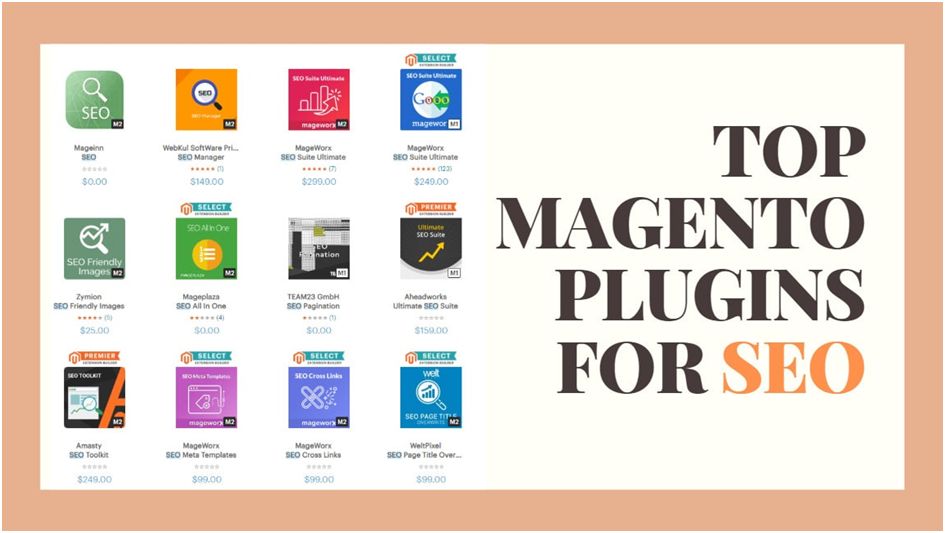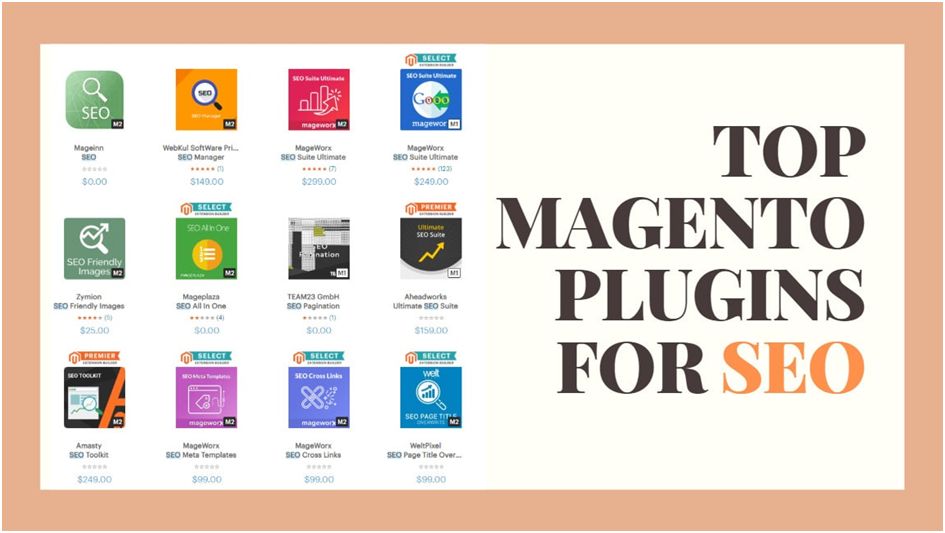 Is your eCommerce website built on Magento? Good for you if it is, as this platform deservedly takes its spot among the best ones for the job, and we bet that your online store looks great. Now what's left to do is to assist your potential buyers in finding and choosing YOU over your competition. (Increasing your website traffic and helping people allocate your site and your products is among your priorities, right?) Obviously, there's more than one way to do that.
It is undeniable that well-running SEO with growing performance is, by all means, something you can benefit from in the long run. Sure, you may attract people to your website via PPC faster, yet ongoing paid ad campaigns automatically mean that you'll continuously need to dig into your wallet as opposed to the perks of organic search.
On this page, you can find a brief overview of the types of SEO extensions available for Magento as well as learn more about the most popular plugins which can become handy for growing your business.
What SEO extension types are there for Magento?
When browsing the official Magento Marketplace for SEO plugins, you'll see that there are over thirty of them available for installation. Some can be implemented into your website free of charge; others have part-time free trials or can be obtained on a paid-for basis. You can find extensions that are single feature-oriented (f.e. designed solely for optimizing images) or those that provide ready-made bundles of features as tool kits.
In addition, keep in mind that some extensions work only for Magento 1 or, vice versa, are solely suitable for Magento 2. And in case you have more than one store running, make sure to note whether the plugin supports multiple stores or not since not all of them do so.
What is more, if you perform the search not via Magento's Marketplace, you can come across a dozen or two more third-party extensions developed for search engine optimization purposes too.
Depending on your SEO needs, you may opt for integrating a combination of several one-feature tools or get a full package instead. Of course, if you don't have in-depth knowledge of the field or need assistance in installing or supporting your online shop's extensions, you won't go wrong by turning to pros who provide enhanced Magento development services. But just to get you started, below we have narrowed it down to the most often chosen Magento SEO extensions.
1. Mirasvit's Advanced SEO Suite
The SEO kit brought by Mirasvit is perhaps the leader among favorites for catering a website's SEO aspects. It is a great solution for effectively boosting your performance not only on Google but also on other search engines that are currently at the top, including Yahoo and Bing. The ease of SEO optimization with this tool lies in its quick-witted templates that can help keep things organized.
Among the problems the Mirasvit Advanced SEO Suite for Magento 2 tackles efficiently are:
the opportunity to handle keywords and search inputs for your products based on categories and product groups,
a clear system for URLs, links, sitemaps, image optimization, and even snippets.
You can purchase the module straight from the Marketplace, and if the service appears to be not what you've expected, feel free to make use of the policy of getting a refund within 30 days.
2. Mageplaza's SEO All in One
One of the top combo packages available in the Magento Marketplace for Magento 2 is the SEO All in One extension by Mageplaza. Apart from providing a solution that will cover most of your search engine optimization needs, including technical SEO, in one easily installed useful plugin, it also boasts simplicity in terms of usage. Moreover, it's easily compatible with Magento's open-source version, in much explaining the tool's popularity.
The indisputable advantage of opting for this extension is that it has a great basic edition that is FREE! Of course, if you have a necessity in broadening the functionality (for example, some advanced HTML Sitemaps or Hreflang tags), Mageplaza All in One for SEO also has a paid version for professional use.
The things it allows you to do help to structure your data in a way that it'll be not only helpful for your possible customers who are searching for products but also for the Google bots. The extension's well thought through configuration settings give you the opportunity to easily walk the bots as they crawl your pages. And if everything is done right, this is a great chance to boost the rank of your website and help it stand out.
Some of the features All in One SEO offers include:
effortless inputs of custom meta-information via templates (titles, descriptions, and other metadata),
optimizing the breadcrumbs (a way to organize your pages in a structured manner),
avoiding duplicate content (copy-paste is at times regarded as plagiarism and won't do your site good),
implementing cross-links (for instance, sharing access to your social media channels like Facebook or Twitter).
All in all, the tool is well-rated by users and is advisable for those who are just starting to work with their new site.
3. Amasty's Google Rich Snippets for Magento
Your rank on Google has an impact on numerous things, including your click-through rates, the visibility of your website in terms of its position in the list of search engine results, conversion rates, etc. Having well laid out snippets, which are somewhat "answer boxes", can elevate your pages to the top positions based on the search.
Snippets can fish out many pretty cool things to shortly summarize all the key data on your company and product and attract user attention. These can be client reviews or ratings on the product that's shown in stars, a preview image of your product or even specific prices for it that are displayed having taken currency into consideration based on your prospective client's location.
In addition to that, the tool is a catch for taking care of structuring your data and breadcrumbs, making it simple for the crawling of search engines. The better Google understands your website, the higher are your chances to skyrocket your positions in the search.
There are many tools created for this purpose, yet the Google Rich Snippets by Amasty for both Magento 1 and Magento 2 amid the top choices with a rating of 5 stars based on user feedback.
4. Magenest's Super Easy SEO
This extension for Magento 2 has made the list not only because it has the self-explanatory "super easy" in its title. This plugin is best noted for making work with the optimization of images a real breeze.
Visuals play a highly important role in your website content not only because people tend to buy with their "eyes". Pictures show the product better than words do, agree? Keeping in mind the average number of images an online retail store has up, it's vital to have at least two things as organized as it can get when it comes to images: their weight and their alt tags.
When displaying a picture of a product, we often tend to use the one that has the best possible resolution. We want to make certain that the product is visually appealing and to enhance the user experience, that makes perfect sense. Yet the common rule is that the more the picture weighs, the slower the whole page opens. And what if you have more than one huge picture per item? Quick page speed is a tricky thing to keep track of since the last thing you'd want is your client to click the "x", being tired out by the lengthy waiting times. Therefore, optimizing image size for various purposes including SEO is a must.
Furthermore, filling out the image alternative text can back you up in case the picture doesn't open on the customer's side. It's way wiser to show the Alt text instead of the broken image icon. Besides, it's one more way of getting organic search, so why not do both in one fell swoop?
Anyway, the two image features described above are only some of the module's strong sides.
5. MageWorx Landing Pages
Finalizing the list of high-ranking SEO tools and plugins for Magento is the one dedicated to building top-notch landings. Let's face it, the landing page may be the very first place you and your customer meet. Such pages are a perfect way to grab their attention when it comes to special deals, holiday sales, and so on, to. Thus, having brushed-up and beautiful ones shouldn't be something to miss out on.
With an admirable 5-star rating, the Landing Pages extension by MageWorx for Magento 2 is available for purchase on the Marketplace too. It offers the ease of building highly customizable pages using layouts in a short period of time. The ready-made blocks give the chance to upload images of your choice, add headings, texts, CTAs, and to move them around.
Such pages will not only stand out due to their neat design but most importantly be highly convertible due to forethought points for search engine optimization. Once again, provided that the tool doesn't live up to your expectations, there's a 25-day warranty policy when you can return your funds.
Summing up, having your SEO highly polished is vital for your website to thrive. Yes, it might not give you immediate results, but you'll surely gain more than a fair share from it after a little time. In case you're still not sure which specific Magento SEO extension is right for you, don't hesitate to turn to Magento consulting and ask for some advice from the experts!
Thanks for reading this article. You can subscribe for regular update about technology news and tips via RSS Feed.