Do you still use the same mobile handset as you did back in 2010? Of course, you don't. Technology evolves pretty fast. If you want to stay relevant and reap the benefits of the most evolved piece of technology you need to upgrade your resources from time to time, and the same goes for digital marketing practices.
If you are involved in digital marketing, you must be aware of its dynamic nature. Now that everyone is doing it, you need to up your game to stay ahead of your competitors. As the marketing trends keep on changing frequently, you must arm yourself with effective digital marketing tools that can help you stay relevant and boost your sales significantly.
You will be surprised to know that most of the top brands in today's date are using tools to meet their marketing goals. You can do that too if you know which tool to choose and how to use it to your advantage. In this blog, we are going to discuss the top 15 digital marketing tools that can boost your marketing efforts and improve your sales in 2019.
1. Google Analytics:
Unless you are new to the field of digital marketing, you must be familiar with the name Google Analytics. It is the favorite website tracking tool for millions of marketers. Since it is a free service from the house of Google, it is quite popular as a marketing device. With the help of this tool, you can keep track of key metrics of your website, including the following:
Pageviews
Average time on site
Top referring channels
Unique visitors
Bounce rate
Conversion rate
With the help of this tool, you can create custom reports for your website performance. You can also view detailed statistics about your audience with this tool. With the accurate information of where the audiences are located and what devices they are using to access your website, you can prepare a more effective strategy to boost conversion.
Try Google Analytics now.
2. Hotjar: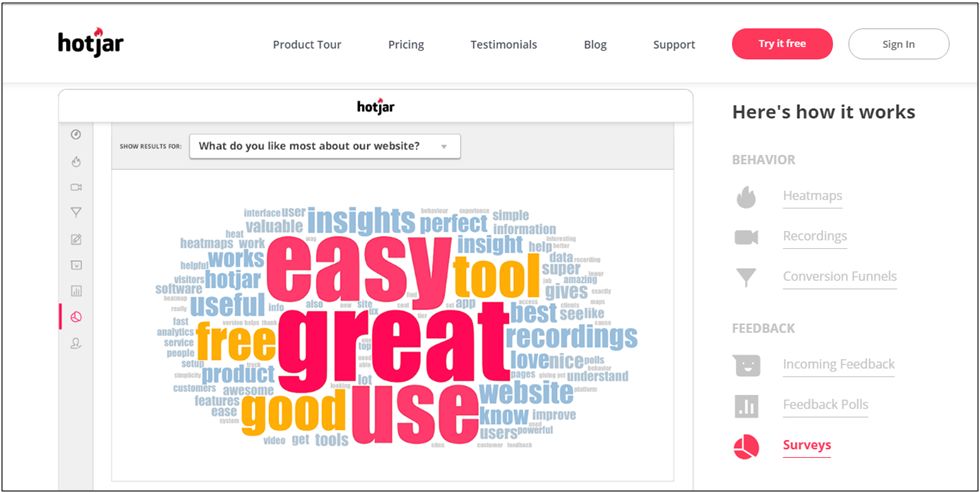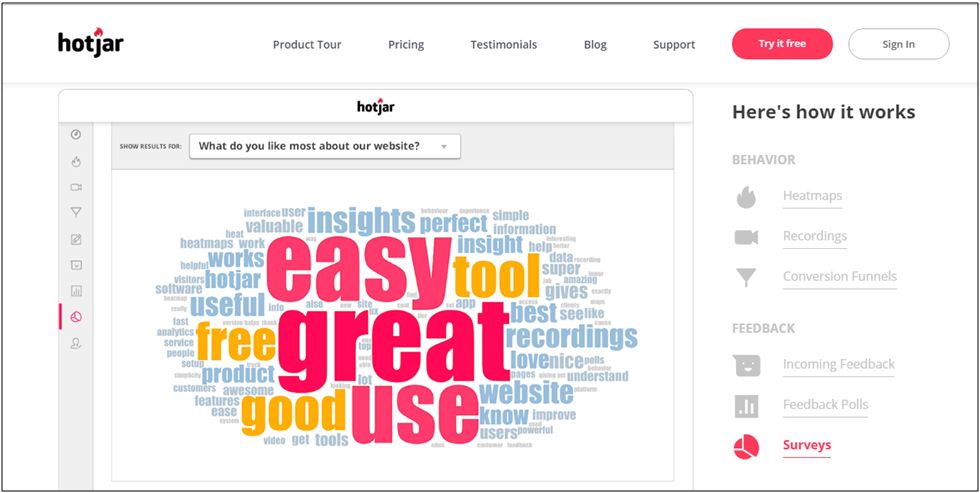 Image Source: Hotjar.com
If you think Google Analytics is not providing with enough insights about customer engagement, Hotjar is the next best thing to try. This analysis and feedback tool provides you with a visual representation of user engagement with heatmaps and records how the visitors are interacting with your website. It even offers the following features:
It reveals conversion funnels and shows what routes people take to make a purchase
It even analyzes the performance of various web forms
And lastly, it conducts a survey on your audience and gets instant feedback
You can use these features to your advantage and make the necessary improvement in your website design and other marketing efforts to get better results. It does offer a free trial. But once it is over, you need to choose a plan, which will cost you something between $29 and $989 per month depending on the daily pageview of your website.
3. Buzzsumo:
Content marketing is now considered to be the most effective way to improve conversion rate. And if you are seriously thinking of focusing on your content marketing practices, you must use Buzzsumo for content research. The tool lets you identify the top performing content in your industry and saves you a lot of time that you may otherwise have to invest in content research.
You can also use this tool to fulfill the following goals:
Measure the success of the content marketing strategy adopted by the rivals
Identify the influencers who may be interested in collaboration
Keep yourself updated with the most recent and relevant content in your industry.
The tool usually assesses the social shares to identify the high-performing pages. Even though it does offer a free trial, you will have to spend something between $99 and $299 every month to use all the features.
Use Buzzsumo today.
4. Campaign Monitor:
Email marketing has been quite effective in driving sales in the past. And it still is one of the best strategies to improve your customer engagement. Campaign Monitor, an email-marketing tool, allows you to conduct an organized email marketing campaign by helping you design, write and deliver emails and newsletters to the preferred recipients.
The tool also offers the following features:
Availability of numerous engaging email templates
Drag and drop editor that even a layman can use
An automated emailing feature that works based on the subscriber's activity
Inclusion of sign up forms
You can use the free trial of the tool to see how effective it is. If you like it, you can subscribe to the paid version, which will cost you somewhere between $9 and $989 based on the features you need.
Check out Campaign Monitor now.
5. MailChimp:
If you really want to boost your email marketing efforts, you should definitely check out MailChimp. It is cheaper than Campaign Monitor. If you are just starting out, this tool is ideal for you. With this email marketing tool, you can do the following:
Prepare email advertisements, landing pages, and newsletter to promote your business
Set automated emails for different purposes like welcoming a new subscriber, sending birthday wishes, and notifying about the abandonment of cart.
Retarget customers with the information gathered from Facebook and Google ads using mails.
You can use the free trial to assess its efficacy. And you can use it further for free till the time you cross 200 subscribers. To serve more subscribers, you need to pay a fee of $10 – $199 every month.
Use MailChimp now.
6. SEMRush: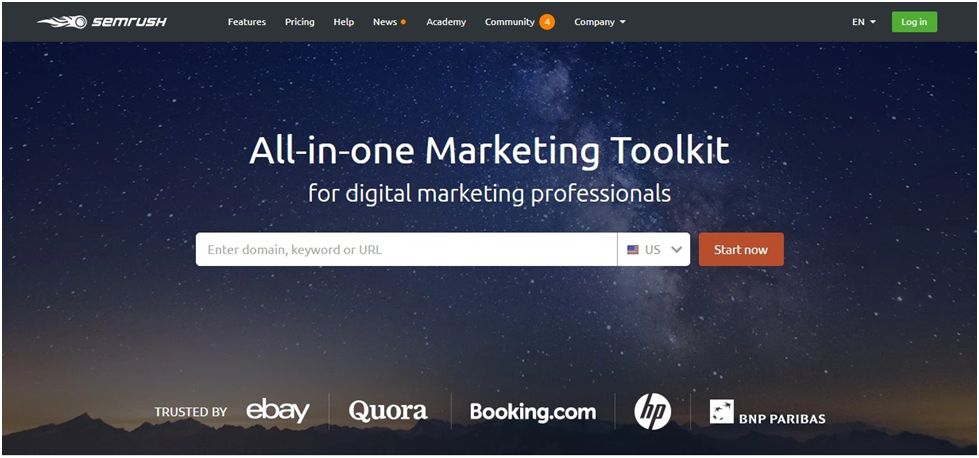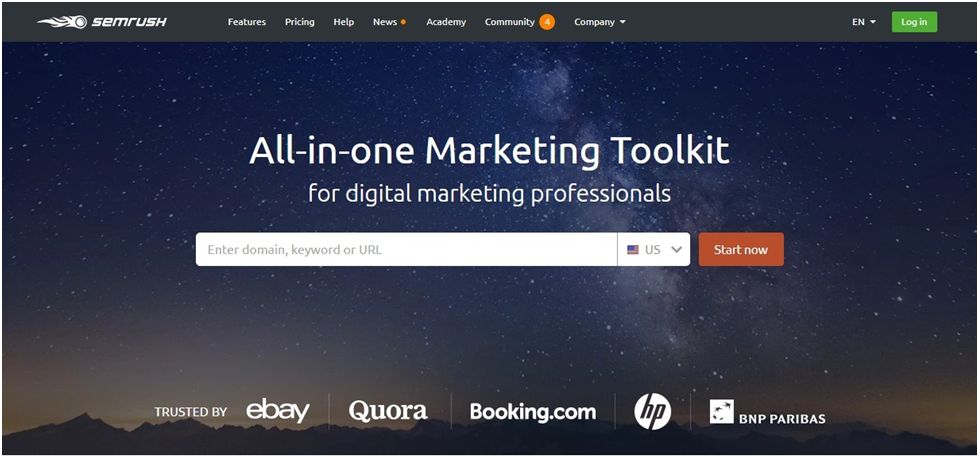 Image Source: SEMRush.com
SEMRush is a versatile marketing tool that is powered by AI. It can assist you in various aspects of digital marketing, including SEO, PPC, content, video, social media and many more. This tool also allows you to:
Identify the rival websites that are competing with you for the top place
Discover the keywords in which the competitors have higher ranks
Analyze the backlinks that direct to your website
Monitor the advertising campaigns and identify the ad strategies, budgets and target keywords of your competitors
Get a deeper insight into your product listing ads
You can use the free trial of this tool for the first 7 days. After that, you need to spend an amount of something between $99.95 and $399.95 every month to avail features of this tool.
Check out SEMRush now.
7. Yoast:
For all the marketers who are working with a WordPress or WooCommerce website, Yoast plugin can make it a lot easy to optimize the website for the search engines. The plugin allows you to optimize the key SEO ranking factors, such as:
Internal links
Keyword density
Meta titles and descriptions
Related keywords
Readability
The plugin does offer a free trial, beyond which you need to pay $89 (plus taxes annually) to enjoy its premium features.
Click here to get Yoast plugin now.
8. Grammarly:
Grammarly is quite popular among the students as it offers help with assignment editing. As a marketer, you can also get benefited by this tool as it can proofread and edit your email content, social media posts, and any other piece of marketing content. Grammarly integrates seamlessly with your browser and helps you to:
Check the grammar of the content
Improve a certain portion of the content by making accurate suggestions
Proofread and edit content wherever you write, since it works with social media, WordPress, and Gmail.
The free version of the tool offers you features like identifying spelling mistakes and basic grammatical errors. The premium version, however, costs $29.95 per month.
Get the Grammarly extension now.
9. ConvertKit:
If you are running a small business, ConvertKit is the ideal email marketing tool for you. It is developed by the creators, for the creators. This amazing digital marketing tool offers features like:
A great number of customizable landing page and opt-in form templates
Visual automation to monitor and understand the automation sequences of mailing activities
Seamless integration with other digital marketing tools
The option to tag and categorize subscribers based on their behavior
The tool offers 14 days of free trial. After that, you need to pay around $29 – $79 every month to use all the features of this tool.
Use ConvertKit today.
10. ClickFunnels: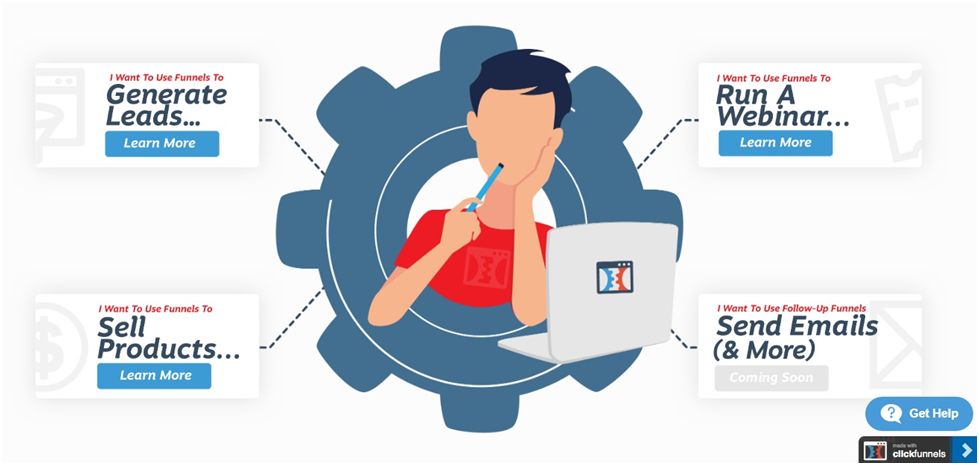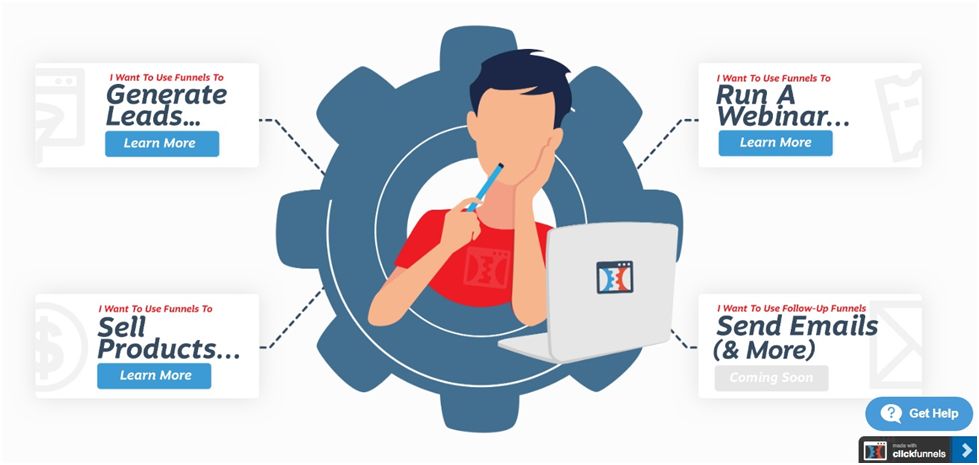 Image Source: ClickFunnels.com
Since the primary objective of your marketing strategy is to boost sales, you need to understand the sales funnel well. The process converts a stranger into a loyal customer. ClickFunnels, a digital marketing tool can help manage the funnels and allow you to market, sell and deliver your product on the internet.
Some of its amazing features include:
Drag and drop website editor
Smart shopping carts that can help you upsell your products
Smooth running of email and Facebook marketing automations
Managing and running a successful affiliate program
Take the free trial of 14 days to see how it can add value to your marketing efforts. If you like it, you can pay something around $97 – $297 per month to enjoy its premium features.
Click here to check out the tool.
11. LeadPages:
The appearance of your landing pages actually has a significant impact on the conversion rate. If you want to turn it into your favor, you need to improve your website design. With LeadPages, you can design attractive webpages, even if you don't have coding knowledge. This useful tool also offers features like:
Integration of attractive and non-intrusive pop-ups on the website
Easy A/B testing to determine the performance of a landing page
Use of effective checkout page templates
Hosting the landing pages on their own server to reduce the load from your servers
Once the 14 days trial period of this tool gets over, you will have the pay around $37 – $321 per month to enjoy the features of this useful marketing tool.
Take a look at this amazing tool now.
12. OptinMonster:
OptinMonster works as a lead generation tool that effectively reduces the number of abandoned cart over a period. It allows you to do the following things:
Prepare impressive lead capture forms
Split-test the forms to maximize the conversion rate
Gather customer data and provide you with the opportunity to retarget the customers
It does not offer any free trial, but it does process a complete refund if you don't like the tool in the first 14 days. The plans for this tool start from $19 a month and can go up to $59 per month, based on your requirements.
Click here to check out OptinMonster now.
13. SparkToro:
Social media influencers can boost your sales to a great extent if you know how to leverage their popularity in improving your conversion rates. SparkToro, a digital marketing tool, lets you identify popular websites, blogs, podcasts, and social media accounts that your target audiences follow. It also offers features like:
Showing the key metrics to monitor customer engagements and the reach levels
Helping you audit the fake followers on Twitter.
Identifying the trending topic in your industry
Allowing you to monitor specific accounts (the competitors) to analyze the marketing efforts
Scoring a Twitter profile based on its influence on the customers
And the best part about this tool is that you don't need to spare a single penny to use it.
14. Mention:
Marketing can be a lot easier if you can listen to what the people are talking about your brand. Getting feedback can be effective, but with the tool like Mention, you can easily monitor and keep track of conversations taking place on the social media platforms about your brand. The tool also offers features like:
Real-time tracking (so that you can get live updates about your brand mentions)
Keeping track of your competitors and listen to what people are saying about them
Identifying the influencers in your industry
Unfortunately, the tool does not come with a free trial, but it is quite affordable in comparison to the other tools in the list. It costs around $29-$99 per month.
Check out Mention now.
15. Buffer:
If you are having trouble managing the marketing activities on social media, Buffer can help you in multiple ways. The tool is generally used to schedule social media posts for later. But you can also enjoy other features like:
Seamless integration with different social media platforms including Facebook, Twitter, LinkedIn, Instagram and Pinterest
Monitoring the performance of the scheduled posts
Feature to re-share popular content with just a click
Works well with a variety of multimedia content (images, videos, and plain-text)
You can use the free trial for a few days. The pro version of the tool costs $15 per month, while the business version costs $399 every month.
Check out Buffer now.
Final thoughts
Even though these tools can improve your chances of having a better sales figure, but they cannot magically boost your business overnight. Remember, you are not the only person who is using these tools. You need to make smart choices and improve your marketing efforts if you want to stay soar high.
Mark Hales is currently employed at one of the major
E-Commerce companies based in Australia as the senior marketing manager. He has
also been associated with MyAssignmenthelp.com where he delivers assignment help to MBA students on
request.