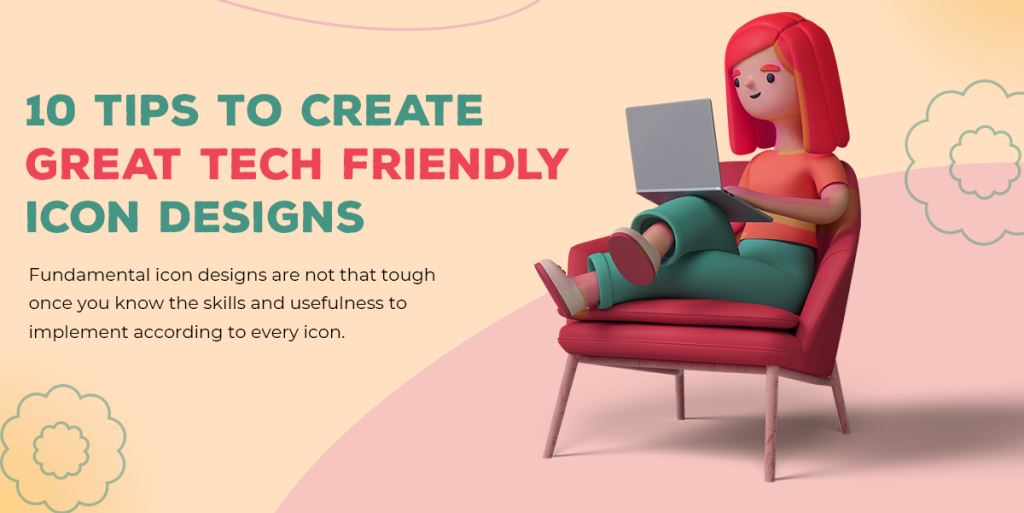 Fundamental icon designs are not that tough once you know the skills and usefulness to implement according to every icon. This is the most fun and rewarding part where professionals can make the icons look interesting, easy, and communicative for others.
The important majors are staying simple, contextually appropriate, and elegant while creating an icon. Designing your icon may not be easy unless you don't find the conclusive parts of creating your icons, such as fundamentals.
If you want to stay out of all significant challenges while making Free SVG Icons, then you must follow the content for further assistance. It comprises 10 important tips that are tech-friendly and useful for your icon creation.
Do You Know the Definition of An "Icon"?
Well, context diversity decides the definition of an icon. When you are developing a graphical symbol or stamp for representing ideas, information, or objects, you are moving to develop SVG Icons for yourself.
Considering your works, the above statement describes a lot about the icon. These days, you are surrounded by icons everywhere. Wherever you look, you will find multiple symbols in ad boards, airports, railway stations, bus stands, hospitals, market complexes, traffic rules, etc.
Important Elements to Consider While Designing An Icon
Form
It is just describing the basic shape of your icon. Every detail you represent in the form of your icon designs can be enclosed within various shapes such as ellipses, circles, triangles, and geometric shapes.
For example, if you notice a symbol of an airplane inside a square or circular space, then you can clearly determine the nearest existence of an airport. However, the following shapes are quite common in different uses:
Rectangles and squares: They represent the audience about loyalty, safety, formality, stability, solidity, and strength.
Circles: These structures communicate about vitality, relationships, community, health, wholeness, eternity, and repetitive movement.
Triangles: These shapes deploy the sense of science, peaks or summits, stability, and momentum or movement.
Precision
On a microscopic scale, a designer must think about the precision of every icon while creating it. So, small-scale designs are very praiseful for neat and complete visualization with consistency. A minor presence of errors inline weight, angle, or edges may make a great concept to an unpolished one.
Gridding helps you fall into the right precision while making an icon. So, the following grid types will let you know the basic stuff"
Dot grids: provide the structure at first.
Square grids: allow designers to know the perpendicular lines
Square grids with diagonal lines help designers make any geometric type simpler.
Thirty-degree angle grids: help in three-dimensional designs
So, it would help if you created Free SVG Icons that will be reliable and helpful to illustrate the audience. Crafting icons with the help of the right software (such as Adobe Illustrator) can be much helpful to stay in the detailed designs.
Originality
To create great icons, you must be very specific as they are memorable and communicative. To accumulate the ideas of creating original icon creation, you must know the balance, understand the visual metaphors, and use visual clichés in the design.
Also, the plotting of an icon is not in its final form. After that, you can start your re-work to make it unforgettable and distinctive. Icons like skulls, crests, hearts, lightbulbs, gears, badges, puzzle pieces, and other common icons have been helpful to represent the same ideas for many years.
Emotional Evocation
Following the SVG Icons Download, the path is the easiest part. However, some essential steps are there while making each of them.
Most successful icons are pretty surprising for viewers. Yes, they evoke the idea of the subject, such actions, subjects, or ideas that they represent through the design. The design elements composed of thoughts such as appealing to viewers with intimidating, frighten, delight, and excitement can be emotionally evocative.
Angle, colors, and line weight of the icons play major roles in creating such impacts. It would help if you considered what you are trying to say to the icon viewers. The communication of icons to its spectators is important to raise the emotional evocation.
Consistency and Unification
Icon designers describe this method of work to create a "family of icons". You must know that the group of family icons describes individual ideas, actions, or other related subjects with the linkages of visual and aesthetic levels.
Families of icons are prevalent among the use of organized presentations and website menus. They have a range of spreading brand activities with their deep messages. So, you must know that creating families of icons is the job that speaks a lot to its spectators.
Their visual cohesion has better values. Each icon can describe its function independently, and others remain consistent with their unique symbolizations.
Simplicity
Don't create too clumsy or out-of-order icons. Well, the motto of creating such icons is very clear. Your work must represent the symbol of life to deliver its spectators about its noble message. So, you must take care of this point with higher precision.
No other options are there that can create a simple and noble SVG icon apart from the right ideas. Yes, large-format contexts are quite overwrought, overly complicated, and look claustrophobic. So, staying out of risks is important.
You don't want to lose your readability while making an icon and engaging them for other uses. So, simplicity is what the audience likes the most.
If you try to include many ideas inside the icon, it may resemble complicated rather than provide useful context or information to its viewers. Nothing is going to beat the tasks of simplicity. Understanding your requirements and implementing simply your icon design can result in such achievements.
Contextual and Cultural Relevance
Icons have higher impacts among people. They immediately know about the message a designer wants to share with the spectators by looking at the icon. You must know what is the right thing to include in an icon.
However, the thoughts may not be similar with every icon you design as it shifts with each new project. Also, you must know that no universal rules are there that keep you in the confined zone while creating or maintaining cultural and contextual relevance.
You must focus on your design as it describes a lot. Creating theme-specific icons that represent the values of contextual and cultural relevance with a major response should be the priority. You must know your surroundings, products, services, or company for whom you are designing the icons.
Talking about SVG icons, they have higher usage among website developments. So, you don't want to ruin your reputation here, do you? Therefore, you must analyze the symbol design and prepare them with the latest technology. Also, do not add obsolete references or outdated stuff.
Scalability
SVG icons have importance in the use of websites. Their essential qualities and effectiveness have an impact on many. They are small or tremendous. Yes, without any change, the audience can understand their comprehension through their design.
You must ensure your SVG icon design doesn't ruin its size adaptation. Yes, the vital advantage of an SVG icon is it can fit all types of sizes. It may be too large or fall too small. If you wish to start your process from a smaller size, it may be good for you to create a readable impression.
Whether you are curious about a few pixels wide design or a large-format banner design, both will come to the adjustable pattern. This is because of its efficiency. The SVG icons can fit any size, depending on your design. The icon won't get pixelated when you resize them. That's scalability for you.
Balance and Composition
Whether your icon may be small or large, you must take care of the composition along with the balance. Yes, with the right insertion of geometrical shape, you must also consider the design of symmetricity or dynamic asymmetricity.
Learning to frame the icons is one thing and considering the symmetricity is another thing. Your design must make a visual impact among the others.
Suppose you find a design that is too clumsy, has no good color selection, does not match with symmetrical fashion, is improper color selection, is full of controversial stuff, and does not include a promotional amount of positive space. In that case, you may fail to impress or improvise with others with your icons.
You must follow the basic tenets of composition while making an icon to balance your designs. You will have the best and easier time creating such effective icons. Many will admire your work when you work with beautiful and balancing compositions.
Recognizability
The right type of image can create a huge impact. It is not about the shape or size but the message an icon bears within. Above anything else, you must consider this point with higher values. Creating an effective icon must comprise instantly understandable facts and recognizable orders.
Little images are compelling when it comes to describing the audience without even saying in words. People can understand the meaning of what a designer or author wants to imply here. So, SVG Icons Download won't be that hard to choose.
This is about simplicity and recognizability. When you form an icon with a plant dipped inside the soil, it represents the plantation of trees. Well, just a few words are there, but its spread message has relatively higher values.
"Go Green" motto is everywhere. So, if you put the symbol as your primary banner's icon, it will spread the awareness of saving trees and planting them for a better future. Similarly, you must focus on the creation of any other icons to satisfy recognizability to the audience through it.
I'm Olivia Welsh, and I'm a freelance professional creative writer. Currently working with a start-up venture that provides free SVG icons to users. It offers its services to graphic designers, visual designers, UI/UX designers and developers. Our team is dedicated to delivering high-quality content.